People often ask me whether it is worth going to a language school to study Thai, and my answer is always a resounding yes.
But my reasons are not solely about learning. There are also some negative aspects that you'll need to consider too.
So in this post I will cover the positives and negatives of language schools and give you some insider tips on the best way to succeed with learning Thai.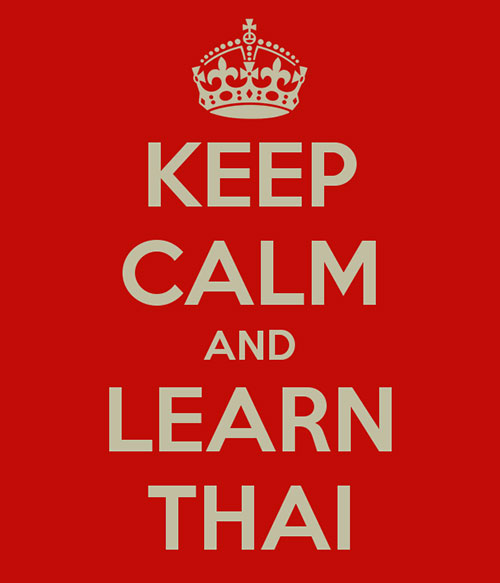 5 Positives of Thai Language School Learning
1. Focus & Discipline
I enrolled in a school to keep me disciplined and focussed, to have that routine of two evenings a week learning Thai, without fail. If you aren't self-motivated, this routine keeps you in check.
2. Meeting New People
Perhaps the primary reason I recommend a language school is because it gets you out meeting people. Two of the friends I met at school I am still in regular touch with today. Even if you learn nothing, if you make a friend it was worth it!
Whether you live in Bangkok, Chaing Mai or Phuket (all big places), it's easy to become isolated and start living in a fish bowl. And what you find when you get out there and start a course is that there are a bunch of people just like you, all in the same boat.
You will get to meet new people, from different backgrounds, some with similar and some different circumstances. The social aspect of learning is as rewarding as the learning.
3. Increased interaction with Thai People
I always say that the key to learning Thai is to speak it with native Thai speakers. When you enroll at a school you get to speak Thai with a teacher. You also get to speak with the staff. Sure, they speak English, but once you learn conversational Thai ,you can try speaking with them.
You also get to meet Thai people who aren't working in restaurants and bars or maids in your apartment block. Some expats rarely have interactions with Thai people outside of these environments, so it really does open your mind to everyday society.
4. Real-Time Progress Tracking
Being in a class means knowing exactly how good you are. You will actively see how well you score on tests compared with your peers, and how well you are able to answer the teacher's questions in class.
You will also have the feedback of your teacher during reviews of your test results.
Some people thrive in a competitive environment, while others may be more introvert and prefer not to pitch themselves against the proficiency level of others.
5. Certification & Levels
Okay, so most language school certificates don't mean much in the real world, but they are a) proof that you have studied Thai to a specific level, and b) a motivator to keep moving forward and reach the next level.
Tests and certificates and moving up to a higher level (class) documents your progress. There is nothing like achieving a high level in language learning.
You go from barely being able to speak a word to actually people able to ask people questions in Thai, and answer questions yourself.
A certificate may also come in handy when applying for a job one day.
5 Negatives of Thai Language School Learning
Okay, so those are the positives of a language school, but what are the negatives? Here goes:
1. The Cost
Well, it can be expensive. A good school will cost you a fair bit each month. Learning is a great investment but let's have it right: I paid 10k for 3 months learning, yet I bought my ThaiPod101 lifetime membership for around the same price!
So, if you are on a budget, home study is more cost efficient.
2. Rote Learning
Language schools teach you in a traditional way, known as rote learning. They follow a syllabus from books in a classroom setting, working through the chapters until completion. There isn't much deviation from this, as their job success depends on completion of the modules.
Sure, the lessons can be as fun as the teacher makes them, but the delivery is essentially one dimensional.
Online learning has the advantage of multiple digital tools. Lessons can be rote or interactive, and you can learn on mobile or print out lessons and flash cards.
3. Learning Irrelevant /Wordy Thai
I will never forget the time I cam home and asked my GF if she had ever seen a rainbow in Thai. She was in stitches. I felt offended. She immediately knew where I'd got that from and asked if I had learnt that in school.
She appreciated my efforts but was a bit surprised to hear we'd spent 30 minutes learning that when we could have been learning questions that Thais actually do ask each other 🙂
There were other instances of this too, but in other areas such as the use of unnecessarily long sentences (wordy) and placement of words.
This came up with a classmate and his wife too. They were getting annoyed that no Thais outside of the school understood what they were saying.
But this just reiterates the point I always make: Use multiple resources for learning Thai, and whatever you do, get out there and speak Thai with Thai people. If possible, befriend a Thai person who is willing to help with your pronunciation.
4. Time Consuming
When I started learning Thai at school at had few responsibilities. Now I have a wife, a child and a business that is increasingly demanding my time. Some people just can't commit to school and, like the gym, a lot of people pay the fee and rarely go – which is a waste of money.
The reality is that it's commitment. If you are going to attend a language school then you should first assess whether you have the time. Consider the travel time to and from the school too, and that you may be given homework to do.
5. Bad Teachers
It happens. I have to say, my initial concern were the teachers and how well they would be able to engage with foreign students. I got lucky in that the teachers I had were great, which made me look forward to going. But I have spoken with others at that school who didn't feel the same way.
In Conclusion
I have to say that I found Thai school a little easier than others because I had a head start. I knew a fair bit of Thai going into the course, which I had learnt from a good friend over the previous year or so.
This put me near the top of the class and helped ease my nerves, and makes me think that I might not have enjoyed it as much without my prior knowledge. Going "back to school" can be daunting, especially for those who are more reserved and quiet.
But I needed to learn proper sentence construction and expand my vocabulary skills, and also understand why things are said in certain ways, rather than just saying them – it really helped me in those areas.
However, by far the most rewarding aspect of the school was meeting people who were in Thailand for all sorts of reasons. It gave me some routine too, at a time when I needed it.
I left in the end. To be honest, I don't think anyone stays at a language learning school for more than a year or two. Once you have a good foundation, you can take it from there and learn more on your own and from everyday interactions with locals.
You don't need to go to a language school to learn Thai though. If you don't have the money to pay monthly, or just don't fancy the classroom learning setting, there's plenty of other ways to learn:
Basic lessons on YouTube
Free account at Thaipod
Thaipodcast is a good program too (but costs)
Get a Thai friend or your GF/BF to teach you
Learn one word a day (365 a year) and use these words as much as possible in Thailand
I recommend combining all of the above to be honest. Immersive learning is key. Tackle the language from as many angles as possible and keep learning fresh by mixing it up with different resources.