In this Learn Thai Podcast review, I'll give you my personal, frank experience of this increasingly popular program.
I say "increasingly popular", because had you bought this course a few years ago, you'd have been disappointed.
In fact, I decided not to review the Learn Thai Podcast in 2013, simply because I didn't think it was comprehensive enough. I found it a tad boring in its delivery and wasn't convinced it was the right starting point for those interested in learning Thai.
I means, because that's the point, right? The whole reason people start learning Thai and then stop quickly is because they get bored, they feel disengaged, they feel like they're not getting anywhere!
Anyway, fast forward to 2016 and here we are: The Learn Thai Podcast has been revamped and I've given all the new materials a thorough test drive, from the beginner tools, through the learning to read and write Thai worksheets and onto the intermediate and advanced speakers materials.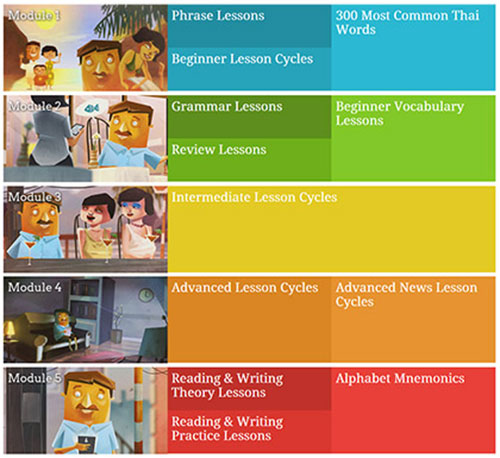 Getting Started: Beginner Tools
Firstly, don't be put off by the name: It's not a podcast that you have to tune into or download each week. The name is derived from the original format, which is a straight-talking video lesson style.
But now the course has been reorganized and repackaged, it's much user-friendlier. So if you're new to learning Thai, then you'll really dig the beginner tools they kick you off with. Here's the core 4:
Start with 150 useful Thai phrases you'll use in everyday situations
Learn the 300 most common Thai words that will get you creating sentences fast
Use the 60 Thai sentence templates to help you start peicing sentences together
Run trough the beginner lesson cycles to help you familiarize with question and answer scenarios
The cool thing about this beginner structure is that it has been designed to get you talking Thai immediately, which helps prevent that disappointing "I'll never be able to speak Thai" feeling that usually leads people to quit at the first fence.
At this point I want to reiterate something I always tell people: No matter what course or tools you are using, you must regularly practice the Thai you learn in real-life situations, otherwise it's pointless.
Once you are getting comfortable with some basic phrases, the course takes you a little deeper into grammar.
There's 42 grammar and word usage lessons, and every grammar lesson comes with a dedicated review lesson. In addition, there's special pronunciation lessons, which I thought was a fantastic addition because everyone struggles with this aspect of learning Thai due to the non-native nature of the alphabet.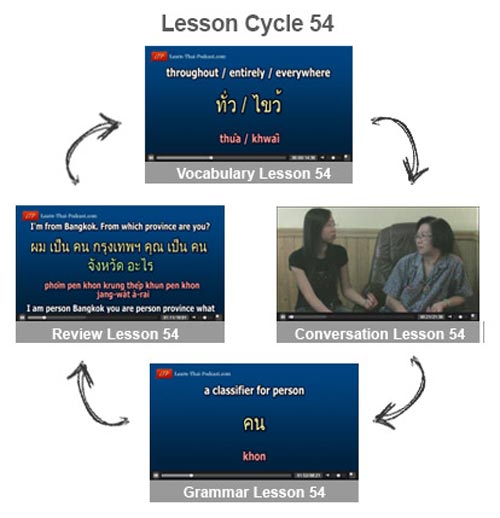 Learning to Read & Write
Anyone who can speak Thai will tell you that you can rapidly advance your speaking by learning the alphabet.
Now, I've spoken with a handful of people using the Learn Thai Podcast and they've all made one big mistake that has slowed their progress – leaving the alphabet until last. Doh!
Having done well at the beginner stage they try to jump into the intermediate speaking and ignore the reading and writing.
Do yourself a favour, jump straight into the alphabet as soon as you can, if possible in tandem with learning your beginner phrases. Trust me, you'll be streets ahead of other learners if you learn the alphabet in your early days.
Sure, it isn't as easy as learning basic phrase like "Gin khao ru yang"? or "Khun chu arai khrub?" But it's essential for laying down the foundation for intermediate and advanced speaking.
The course comes with a great number of alphabet resources to take advantage, including Thai alphabet memory aids, theory lessons, practice lessons and writing exercises.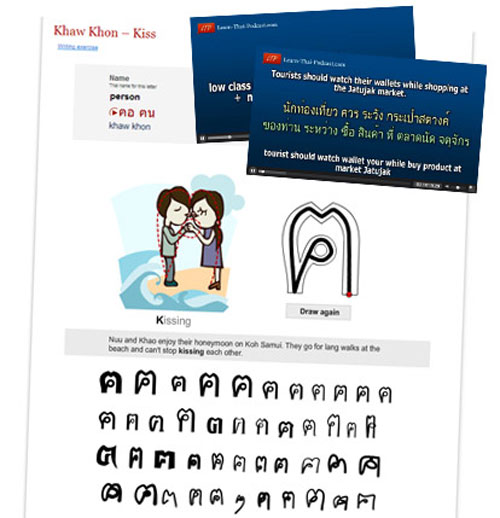 Moving Forward: Learning Intermediate Thai
Each of the 73 intermediate lesson cycles consists of four lessons that relate to each other, which keeps a nice context to the learning cycle. The format is the same, so vocabulary lesson, conversation lesson, grammar lesson and then a review lesson to test and reinforce what you've covered.
But where the intermediate level really steps up from beginner is that in addition to Central Thai (the Thai you'll hear spoken in Bangkok), there are specific lessons on different Thai dialects; for example, northern, southern and north eastern.
This will be particularly helpful for those with a partner from a province outside of Bangkok, because as you'll know, when traveling to these places, the Thai is completely different, particularly in the deep south, and northeast (where they speak Isaan, a blend of Thai and Laos languages).
QUICK WARNING!!!
I should warn you now that you must take your time with the Learn Thai Podcast course. Because one thing that struck me when sifting through the materials was the potential for a beginner to be overwhelmed.
For example, there's over 800 videos, and immediately you'll gain access to learn over 3,000 common Thai words, along with 318 beginner vocabulary lessons. That's massive!
Sure, it's great value in terms of the price, but if you rush in and clutter your mind, and start jumping back and forth from video to lesson, you'll negatively impact and slow your learning potential.
So, I recommend downloading only what you need, rather than grabbing all the content at once. Download a video a day, or other type of course material, and spend 30 minutes mastering it. Then login the next day and download the next, and so forth. Structure your learning to maximize your potential.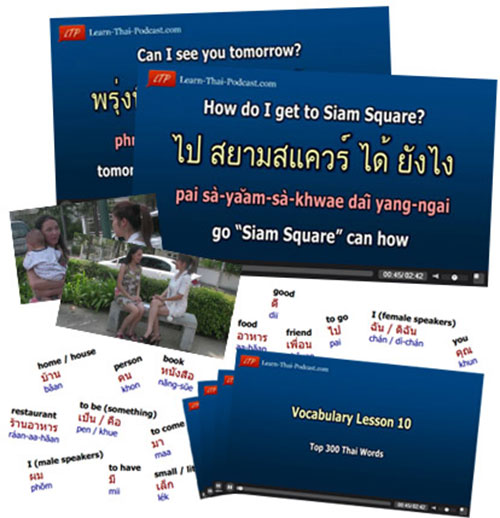 Taking Your Thai to an Advanced Level
This is a massive new addition to the course, which wasn't available previously. Learn Thai Podcast is now fully comprehensive, in that you can pretty much become fluent – as long as you practice real-life immersion too, and if you were to 100% dedicate yourself from start to finish.
Advanced lessons follow a different format and are delivered in 16 lesson cycles. However, like the beginner and intermediate lesson cycles, each consists of four lessons. You'll learn stuff like the following:
How to follow along telephone conversations and other longer conversations between native Thai speakers.
How to read, understand and listen to the much more formal Thai that is spoken in news shows.
And, get this! Besides the regular lessons, all advanced (and intermediate) lessons are also available in Thai only. This is the real test to prove whether you can hack it without the aid of an English translation.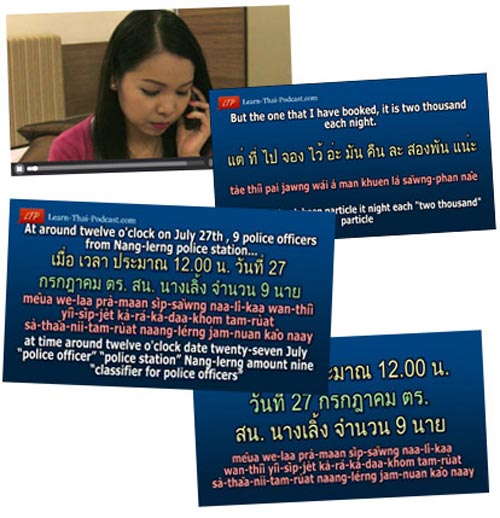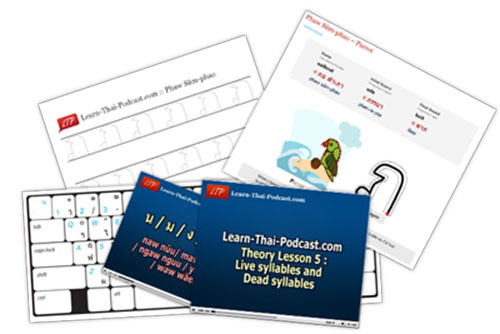 Multi-Platform / Multi-Media Learning
As you'd expect with any online-cum-digital course these days, you can study the Learn Thai Podcast course on your computer, smartphone and tablet. Every lesson is provided as an audio file to listen to, a pdf file to print and a video file to watch.
I found this to be one of the most attractive things about the course, primarily because some days I don't have the patience to read , other times I'm on the go and need audio, and video is cool for bedtime and plane journeys.
What Does The Thai Podcast Course Cost?
The cost for the complete course is $197. This is an absolute steal when you consider the amount of material you get access to.
That might sound like a big layout for you in one hit, so if you can't afford to pay all that up front, no worries; they offer a payment plan of consecutive monthly payments of $49.95.
You will pay the first installment at the time you subscribe then you will automatically be debited at the same time each month until the remaining 3 payments have been made.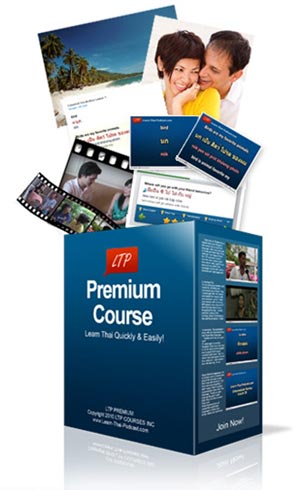 My Realistic Conclusion
I like The Learn Thai Podcast course, I really do. But do I recommend it for you? Well, yes and no.
Yes, if you are patient enough to structure your learning, to download lessons methodically and put them on your laptop or phone and take 30 minutes each day to dedicate to learning.
Yes, if you diversify your learning and use other learning tools too. I always recommend that you don't just stick to one format of learning, or one particular course. The reason being that learning requires constant mental stimulation: it must be fun, diverse and engaging.
And yes if you commit to immersing yourself in real conversation with Thai people as regularly as you can. Even if you have to get a Thai teacher on Skype ,do that!
And no if you're not going to commit to the above.
Wait! Before You Start, Take This One Piece of Advice
Before you rush off and buy this course, I want you to heed this advice. If you aren't that good with languages, like me, it might easily be 3-6 months before you've gone through the vocabulary, conversation, grammar and review lessons at the beginner stage.
But that's fine. By this time you will have easily surpassed the level at which most foreigners can speak Thai. Don't get despondent. Just keep hacking away. A guy in my condo block has been learning Thai for about a year and is now texting his girlfriend in Thai all the time. After 3 months of learning he was almost ready to give up because he felt he just wasn't any good. And now look at him!
It really is incredible.
In fact, just yesterday, at my friend's office, a woman started talking to me about the rain we've been having and how it has made her journey to work difficult. I was confused because where I live it has been raining at night. So I answered in Thai and explained this.
I kid you not, she was blown away, as she didn't know I could speak Thai. I mean, I'm no expert, but I can hold a good conversation. She complimented me on how native sounding my accent was. I'm not boasting here, but let me just say that I'm a guy who did German for three years at school and can't say anything other than good morning and count to ten!
So, don't put yourself down, or compare yourself with others. You might well find your progress is very slow to start with and then rapidly advances in month 2 or 3. Some people grasp simple conversational Thai very easily but never get to the advanced stage because they can't get to grips with the tones and long sentences.
Everyone's learning experience is slightly different. Focus on your learning pathway, not the progress of others. If you really want to learn this language, you can. And you can be very good at it. I've met guys who didn't finish high school here who can speak fluent Thai. Go figure!
If you have any questions, need any motivation, tips or advice, drop it in the comments section below.