It seems like every street in Bangkok has an apartment block being built these days. New apartment blocks selling "happiness", "lifestyle" and "freedom" are advertised on every street corner and inside every train station.
As I sigh at the concept of property ownership and marvel at the workers putting the new block opposite mine together, seemingly by hand, I wonder, is it really worth buying an apartment in Bangkok, or anywhere else in Thailand for that matter?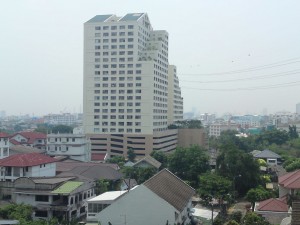 Though the idea of owning property and being tied to one place has never really appealed to me, at one time or another, most of us are forced down that route, either for want of stability or to have something to leave our kids.
On the face of it,  buying an apartment in Thailand seems like a fantastic deal. For £40,000 you can get a decent one bedroom place in Bangkok.
If you want somewhere nearer the centre of town, you  are looking at about £80,000-100,000 for a two bedroom apartment. Go rural, however, or even to the city of Chiang Mai, and you can pick up a decent one bedroom place for £20-30,000.
Getting on the property ladder at these prices is a dream come true, right? Personally, I think not. Take a deeper look at the condo market in Thailand and you'll see the false economy.
A Closer Look At What You Get for Your Money
For a start, building standards in Thailand are poor, period. I remember a builder friend of mine nearly having a heart attack when he say how the builders were constructing an apartment block opposite his hotel. But the workers aren't to blame. Low paid, and often low-skilled, they are expected to build entire apartment blocks, pretty much by hand.
Indeed the lack of power tools used is a huge concern. And it's not like the tools aren;t available to rent; it's just that the developers want to save money at all costs.
On this very subject, just the other day a guy was sent to re-lay two tiles in my room. He was given a screwdriver and an ageing portion of cement in a plastic bag to do the  job. Needless to say the tiles are already wobbling and will no doubt be cracked by next month.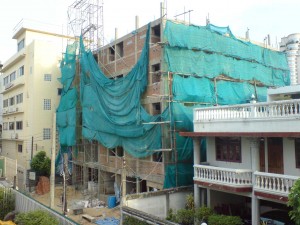 Cost cutting property developers deliver great looking apartments, which will seem cheap to a foreigner. And they are cheap. In fact, they are so cheap in build quality, that guaranteed, within a couple of years, you'll need to start carrying out maintenance on your apartment.
The freehold you get might seem attractive, but truth be told, it might as well be on a short lease if the entire building is going to look like crap within 10 years.
No Resale Market
This leads me to the second reason I wouldn't buy an apartment in Thailand. There is little, if any, resale market, well at least presently there isn't.
Most people in the Western world buy a property because it goes up in value, yet I know a guy here who bought a condo two years ago and now cant sell it for toffee. He thought the escalating market would mean being able to flip it for a small fortune within a couple of years.  No.
Why would a buyer buy second hand, when for only a few grand more they can buy brand new? There are so many developments to choose from, many offering super discounts for early takers, that the resale market is practically dead, except in those upscale areas that remain evergreen, so to speak.
Talking to a local estate agent, I am told,
"Unless you are selling a condo in a very special location, you will struggle on the resale market".
I'm out already. Special location means paying near on what I could get a place for back home, and at least then I could safely assume it wouldn't depreciate (I hope).
Buying An Apartment to Live in Thailand Long-Term
Well, if you do the math, and you know that your rent over 10 years will equal the price of buying a condo, then go for it. But think, will you want to stay in the same place for 10 years? And will you not end up paying out for maintenance and service charges on top?
When rent is so ridiculously cheap (when you shop around), and the owner of the apartment block takes full responsibility for maintenance, it seems silly to buy an apartment in Thailand, especially when the market is flooded and prices don't go up or even hold their value.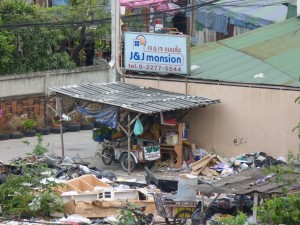 What About Buy-To-let In Thailand?
It's possible, but again, ask yourself…
Do you want to wait 10-15 years for your money back?
Will you be able to rent the property month-in-month-out?
Will you be able to sell it for more than you paid for it after 10-15 years?
Will you be left with a depreciating, dilapidated hassle of a building after 10 years?
There Is A Way To Profit In The Thai Property Market…
It isn't all doom and gloom. There is a way to turn a profit in the Thai apartment market, and that is to buy early. Some developers are desperate to secure sales in the early stages to help pay off creditors and secure further funding for the next stage of building, it also boosts popularity around the project.
This means you can get a much cheaper deal if you buy early on and, if the project is in a desirable area, then you may be able to sell the brand new apartment to someone desperate to get in on the action when all the other units have sold out.
Problem is, to get in this game you need capital and to know the right people, as I speak about in this post. You will need to buy in hotspot areas, too, and those condo's don't come cheaply.
You need to know the market well, because the last thing you want is to be stuck with an apartment two years down the line in an area that isn't very popular with the rental market.
There is also another huge risk to buying before completion. There have been numerous cases where the project has fallen though, the creditors have refused to lend money for a third stage of building, or quite simply an unscrupulous businessman has done a runner with the money. Okay, these occurrences are fairly rare, but be careful who you do business with.
In Bangkok, for a little under £300 per month, you can rent a  1-bedroom condo with a balcony just a few metro stops from the centre of town. And, when you get bored of that apartment, you can just move to a newly built one. On the islands you can find some epic deals on houses, too.
In my mind it's better to keep your cash in the bank, your life hassle free and your ability to around as and when you want.
If you think I am way off the mark, or that I have missed some important points here, then please contribute with your comments below. I am certainly no property expert, and would love to hear from those of you that have property experience in Thailand.
Hey, since writing this post I've written a far more in-depth post on this subject matter: Read it here.