Yep, this is one of those posts I'd read and say, "Well if you don't like it go home then". But come on, I'm English, we need a moan now and again….not to mention that this is the 100th post on The Thailand Life, so I thought something a little tongue in cheek would be somewhat entertaining.
These last couple of weeks have seen me frequent the supermarket far more often than usual. Big C has been my store of choice over my local MaxValue. It's not like I haven't encountered these supermarket annoyances before, but visiting a bigger store in such a concentrated burst has made these things more apparent.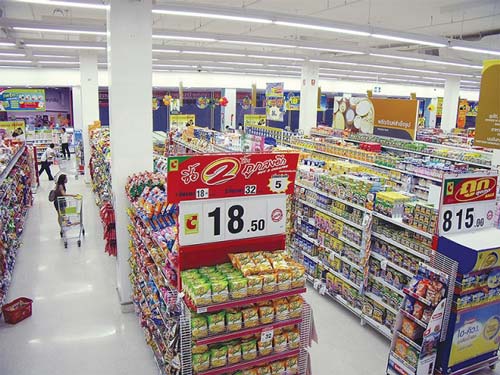 7 Really Annoying Things About Supermarket Shopping in Thailand
1. Not Walking Up or Down the Travelator
Okay, I know, Thais would argue, "Why bother walking on it? It's designed to carry you up and down, why waste your energy"?
And I get that. But I'd hate to die thinking I wasted days if not months (combined) on a travelator because I was too lazy to put one foot in front of the other.
I find it really hard to stand still on those things, not least because they are so slow it feels like it might never end.
2. Not Using the Queue Separators
Why hold your basket all the way to the front of the queue when you can grab a queue separator and put your stuff on the conveyor belt? It's weird. Do people prefer to hold onto their stuff and lack trust in the belt? Is there something I am missing here?
Moreover, don't put your basket on the belt. Take your shopping out and place it on the belt. Your basket has been all over the floor, which means those germs transfer to the packaging of your food, which you then put in the fridge.
3. Incorrect Receipts
5 receipts and 4 incorrect; that is some record. 3 were in my favour and 1 I was knocked for 60 Baht.
Luckily my mum has always drilled into my head to check receipts. When shopping in Big C never trust the price you see on the shelf, particularly for not so commonly purchased items in the home/hardware section.
4. Snail-Slow Shoppers
The supermarket for many is a day out; everything is there, including restaurants and games for kids. But this encourages aisle slow boating.
I made the mistake of going to Big C at 2pm on a public holiday.
People crawl around at snail's pace, letting the kids run riot and pushing trolleys at 1 mph. And supermarket traffic awareness is about as efficient as it is on the roads. "Jai yen yen, jai yen yen!" (Keep calm – cool head/heart)
5. Enveloping Change with Notes & Receipt
Everyone knows this little pet-hate from 7-11. Please just hand me the notes, wait 1 second while I get a handle on them, and then the change and the receipt; it's logical.
Give me the coins wrapped in a parcel with the receipt and I am likely to drop the coins or have to stuff the package into my pocket as it it because my other hand is holding the bags, which will probably mean losing a note or some coins when I reach into my pocket later on.
6. Sale-Hungry Electronics Section Staff
Ask for help in any other section and you feel like you a have just asked someone to borrow their shoes for the day. Walk into the electronics section and about 30 guys and gals are bending over backwards to help you. I guess this is a commission thing.
I feel like a bitch on heat with all these dudes sniffing behind me for a sale.
7. Look! It's An Alien
By now you probably know that many Thai people tell their kids that if they don't behave – or just for fun –  that the farang will GET THEM! You may also experience a terrified child whose mum is pointing in your direction, saying "A-lieen"…that would be you, the farang!
It's quite common in supermarkets. The first time I had to ask my GF what the joke was as the entire family pointed out my slap head to their child; to which she replied, "He thinks your an alien….this is a Thai joke when you're little…hahahaha". Cheers….
On the plus side, unlike the UK, Thai supermarkets rarely seem to rotate the location of stock, making everything easy to find once you've memorised the aisles. 🙂
Come on, you know you've got some supermarket complaints! Vent them here….