With a membership of 770,000, and a whopping 70% of the female online Thai dating network, if I were to enter the Thai dating world now, ThaiCupid.com would be my first choice.
Operated by CupidMedia, a company that owns many other dating sites in a broad range of ethnic niches, this is probably the most well known dating site for foreign men seeking Thai women.
If you want a solid selection of genuine women with a decent job, 21-40 years old, this site is a good place to begin. On my most recent visit I found 2,136 women online.
Like all dating sites, functionality is restricted to the membership you have, so at a free, basic level you can only search and won't have the full messaging capability.
The better your membership level also determines how far up in the search results your profile will appear, so bear in mind that those extra few dollars for Gold and Platinum can make a big difference to your success.
One solid advantage of ThaiCupid is the translation service that comes with the Gold package ($24.99 per month). This translates messages for both parties, preventing cross wires and assisting in breaking down the language barrier. For higher profile rankings and video messaging capability go Platinum for $29.99.

ThaiFriendly.com has gained rapid popularity among the expat community and overseas seekers, growing to a huge 273,000 members.
The site is also popular because it caters for a slightly different crowd to ThaiCupid, in that you get younger women, such as uni students seeking a bit more of a "fun" relationship rather than those of an age where settling down really quick is the main goal.
I always think approaching dating too seriously can land you in as much hot water as going in too loosely, so to speak.
Searching around I got the distinct feeling a few of the profiles I saw were women playing away from home, which may well appeal to some. I'd certainly give ThaiFriendly a bash, if not just because it's a fun place to socialize and make "special friends".
Thaifriendly.com is streamlined in that you pay a monthly fee of $18.95, or buy a longer membership at a discount, such as 3 months for $39.96.
Click here to visit Thaifriendly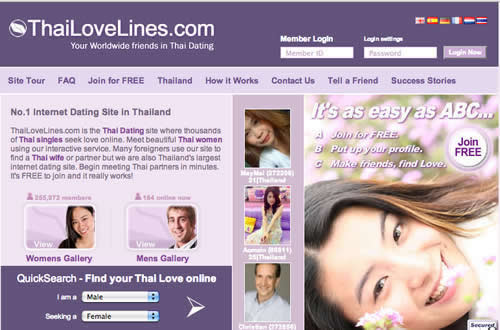 Coming in third is ThaiLoveLines. The interface is kind of old school which has meant the site has lost ground to the two front runners above, but it retains a solid membership of what I'd say is your more classic Thai woman.
And like that classic woman, the site is easy to navigate and the overall simplicity of the process will be very appealing to non-tech savvy users.
There were just fewer than 260,000 members when I browsed around, just over 600 people online and some very attractive profiles.
What I like best is that it's either free or $19.99 for the full membership package with complete services, which includes full profile viewing, email and instant messaging.
The site lacks the professional sheen of ThaiCupid, but is certainly a contender and I see solid potential for success there. ThaiLoveLines will certainly suit those who can't be doing with analyzing membership levels vs. benefits and just want to get straight into the fold.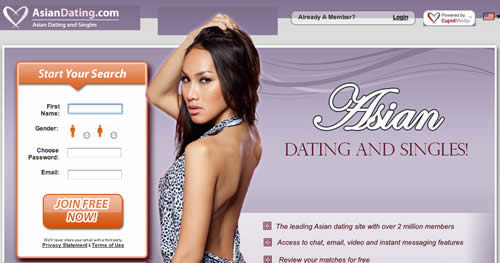 AsianDating.com is often overlooked because people head straight to ThaiCupid, or any other dating site with "thai" in the name.
But don't forget that Thai women are based all over the world, and indeed there are great women of other Asian origin living in Thailand, too.
This makes AsianDating.com a place with a diverse membership, and a great place to meet Thai women and other Asian women in your home country, as well as on their domestic soil.
Like sister site ThaiCupid, Asiandating is also owned by CupidMedia, and is very popular with the expats living in Thailand, Singapore, Malaysia and China.
The site really does have great potential, and if your mind is open beyond Thai women too, you'll find a wealth of members in the Philippines, China, Malaysia, and Indonesia.
The membership pricing is identical to that of ThaiCupid.com.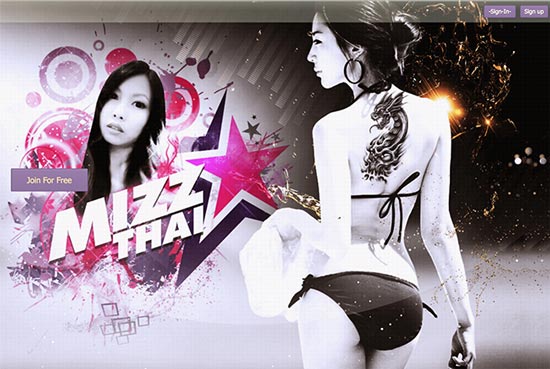 MizzThai is a new Thai dating site with an interesting unique concept. It's centered around travel and fun and aimed at the solo male traveler who wants a companion for adventure, not necessarily someone serious who wants love or long-term partnership.
Sounds great, right? A hot girl on your arm for two weeks as you travel the Land of Smiles! Perhaps.
I think this concept will work well for men who'd usually pull a girl out of a bar for 2 weeks; indeed many girls make a living this way – scheduling in men through the year as they come and go on their travels. In this sense the concept isn't new, though it takes it online and makes it somewhat more organized and private.
I don't think this is for those seeking a meaningful relationship, as it is likely to attract girls just out for a free trip, fine wine and frolics and fun, which is great if that's what you want.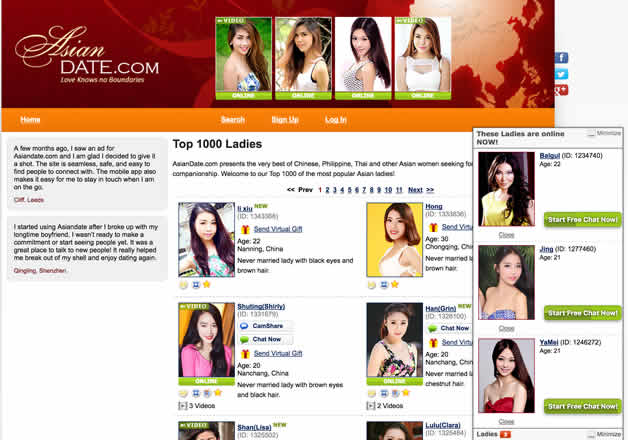 Asian Date has come a long way in the last few years. It used to be quite annoying in that you'd get plundered with messages from unsuitable matches to your email, as if they were just trying to match you with anyone for the sake of it.
Now it's a lot more efficient and the features have been updated. Take CamShare for example, where you can interact live on cam with women you feel comfortable to speak with face-to-face, and the send a gift feature where they give you credits to send virtual images of rings, teddy bears etc.
The site is designed to be a kind of romantic playground and takes a flirty, fun approach to online dating. Before you click on over and have a look though, bear in mind that this site is pretty much dominated by female Chinese profiles, seconded by Filipino, with some Thai but not abundantly like the other sites in my list.
It is free to register though so worth it just for a browse, and a flirt!
I wish you all the best with your search for a great Thai lady, and believe me, there are loads out there.
Remember, people seldom spend time writing about how great their relationship is, which means you tend to only read the bad stories online. Thai women on the whole are like most women, amazing. Trust me, I know. I married one!
So here's some tips for you…
The 3 Rules of Thai Dating Websites [Essential]
There has been a rise in the popularity and number of Thai dating sites in the last two years, the majority centered, unsurprisingly, on western men meeting Thai women.
Whether this is because Thai women are increasing in popularity or whether they are becoming increasingly web savvy isn't clear. But one thing is for sure, you should be as cautious about the online dating process in Thailand as you would in your own country.
You should make sure you're well informed before you start out, not just about the types of women you're likely to come across, but also the size of membership, cost and service of each site – which is why I laid all the stats and info out for you above in my list.
While you should be cautious, don't be fearful.
I've met many western guys who met their partner on Thai dating sites, and highly recommend this avenue over nightclubs, bars and introductions, which often turn into a nightmare. I also know many well-educated, professional Thai women active on these sites.
It's not just those looking for a relationship that can benefit from Thai dating sites, either. Many men traveling on business or coming for a holiday in the region find a date for their visit through this channel.
These rules apply to dating sites across the board. It's common sense, but worth reminding yourself all the same, before you get carried away with the thousands of potential partners you're about to be viewing.
1. Engage with the person you're interested in over a good month or two before arranging a meet. This gives you time to be confident that they are who they say they are.
2. Never send money to someone you have never met, no matter the excuse they give. There are scammers in every country, and Thailand is no exception.
3. Don't give out your home phone number or address until you have met the person, or at least Skyped and had a face-to-face conversation.
How to Avoid Bargirls on Thai Dating Sites
Like any other single woman, many bar girls – both those having sex for money and those solely working in the entertainment industry as a dancer or hostess – are looking for a partner. So yes, it is likely you'll come across such women on Thai dating sites.
You may be able to identify such women by their working hours or the fact that they say they don't work, yet still had the cash to sign up for a premium membership. Be aware that many of these girls are serial daters, and probably have a man in every port, so to speak.
Ladies of the night usually have a reasonable command of English (or "barglish" as it's called) yet no education past the age of 15 to justify it. Such women are also likely to have children from previous relationships.
For some men this isn't a problem, and depending on what you're looking for, you may not mind what a person does for a living, or whether they have dependents or other guys in their life.
However, I think it's a good idea to understand the typical profile of the type of women you are and aren't looking for before you start.
The last thing you want is to end up dating a woman who is solely seeking financial support for her family, and isn't genuinely interested in what you're looking for.
Start off on the right foot and seek a woman that shares your interests, values and intentions.
Can I Find Women Just Looking for Sex?
If you're just looking for sex, the majority of women on these sites probably aren't for you, but if you want something hard and fast, so to speak, you're more likely to find it on Thaifriendly or Mizzthai.
On most women's profiles you'll see that they state "seeking a life partner / soul mate / good man" as opposed to a one-night stand.
If you do see a profile advertising a bit of fun in the sack, you may end up paying for it, or at least having to entertain the woman financially for a period of time.
On the right site you may find temporary dates for a holiday or business trip, and if you're into it, there are a fair few profiles of university students and other women looking for financial sponsors (a sugar daddy) to "take care" in exchange for some loving.
Whatever the type of romance your are seeking, take care and have fun.
Peter ~ Thethailandlife.com