With a membership database of 1.5 million, and a whopping 70% of the female online Thai dating network, if I were to enter the Thai dating world now, ThaiCupid would be my first choice.
Operated by Cupidmedia, a company that owns many other dating sites in a broad range of ethnic niches, TC is probably the most well known dating site for foreign men seeking Thai women.
If you want a broad selection of genuine women with a decent job, 21-40 years old, this site is a good place to begin.
On my most recent sign-in I found 2,136 people online, and over 1,000 active profiles for the aforementioned age group.
Like all dating sites, functionality is restricted to the membership you have.
Thai Cupid is free to join, but with free you can only send 1 message every 15 minutes and you won't be able to message all members (some have restricted profiles that only paid members can view).
This is a tad frustrating because you have to wait for the response too. But hey, it's free! Send a message, make a cup of tea..then repeat.
Free membership won't get you video chat either, which is a great feature to use once you've established a connection with someone.
The better your membership level also determines how far up in the search results your profile will appear; so bear in mind that those extra few dollars can make a big difference to your success.
One great feature of ThaiCupid is the translation service that comes with the Gold package ($34.99 per month / or $69.99 for 3 months – that's less than a dollar a day).
This translates messages for both parties, preventing cross wires and assisting in breaking down the language barrier.
For higher profile visibility, unlimited message sending and video messaging capability, go Platinum ($39.99 a month / or $79.99 per month – that's still less than a dollar a day)
The paid plans aren't expensive when you think of it on a day-to-day basis:
Gold:
1 month – $34.99 / £23.33
3 months – $69.99 / £46.66 (Good value at less than a dollar a day)
12 months – $139.99 / £93.33 (Best value at less than 0.50 Cents a day)
Platinum:
1 month – $39.99 / £27.49
3 months – $79.99 / £54.99 (Good value at less than a dollar a day)
12 months – $159.99 / £109.99 (Best value at less than 0.50 Cents a day)
For everything in Gold, plus video messaging capability, go Platinum. For an extra few dollars I'd say it's worth it to be able to communicate face-to-face with a potential dream date!
ThaiFriendly.com has gained rapid popularity among the expat community and overseas seekers over the last couple of years, growing to a huge 1M+ members.
The site is popular because it caters for a slightly different crowd to ThaiCupid.
By that I mean you a broader cross-section of women, such as younger women  (think uni students and singles in the city) seeking a bit more of a "fun" relationship, rather than those women of an age where settling down is a priority.
I always think approaching dating too seriously can land you in as much hot water as going in too loosely, so to speak.
Searching around I got the distinct feeling a few of the profiles I saw were women playing away from home, which may well appeal to some.
I'd certainly give ThaiFriendly a bash, if not just because it's a fun place to socialise and make "special friends".
One potential downside, depending on your preference, is the prevalence of ladyboys using the site. You'll see a lot less on ThaiCupid, but that doesn't mean there's not a huge number of genuine girls on there too – which there are. It's a very active community and lots of fun.
ThaiFriendly is free to register and there's no obligation for a paid membership. You can begin sending messages straight away, but bear in mind that to begin chatting on instant messenger and have live chats you'll need to upgrade.
The pricing structure hasn't changed much in the last 5 years. It operates a simple, flat rate fee, which is reflective of its overall "easy-going" vibe.
Option A) $24.95 for a 30-day membership
Option B) $49.95 for a 3-month membership
Option C) $69.95 for 6 month
Option D) $99.95 for a 1-year (365-day) membership
AsianDating is often overlooked because people head straight to ThaiCupid, or any other dating site with "Thai" in the domain name.
But don't forget that Thai women live over the world, and indeed there are great women of other South East Asian origin living in Thailand, too.
If you are seeking to start a long-distance relationship, you might also do well to consider Asian Dating because you are location-independent, so to speak – you might meet an Asian lady in your home country, or a country other than Thailand.
By nature, this makes AsianDating a place with a diverse membership and some fantastic single women to chat with.
Like sister site ThaiCupid, Asiandating is also owned by CupidMedia, and is very popular with expats living in Thailand, Singapore, Malaysia, and China, and also guys living in the US and UK.
If you want to open your mind beyond Thai women, you'll find a lot of women on here from the Philippines, China, Malaysia, and Indonesia.
The membership pricing and functions unlocked by upgrading from free to a paid plan is essentially the same as ThaiCupid but a bit cheaper.
Gold:
1 month – $29.99
3 months – $59.99
12 months – $119.99
Platinum:
1 month – $34.99
3 months – $69.99
12 months – $149.99
ThaiLoveLines is quite "old school" in its appearance and feels a tad early 2000s. This may be intentional, as it does appeal to a slightly older crowd – think 35+ females.
That said, it's easy to navigate and the overall simplicity will appeal to non-tech savvy users.
There were just shy of 260,000 members when I last browsed around, and just over 600 people online. That's nowhere near the level of members as the first three sites in this list.
However, TLL is well-established because of its age, so it does have a loyal user-base (some of the members have been looking for luurve a long time) and attract a moderate number of new members.
Of course it's free to look around at profiles and send some messages, but you'll need to upgrade to get access to full profile viewing, email, instant messaging and the Skype chat feature (you need to have Skype to use this).
Pricing:
The pricing is a tad cheaper than ThaiCupid or ThaiFriendly but this is reflected in the lack of professionalism in the execution of the interface and service in general. That said, it's simple and no frills and has a moderate database of attractive profiles.
1 Month: $19.99
3 Months: $39.99
6 Months: $69.99
12 Months: $119.99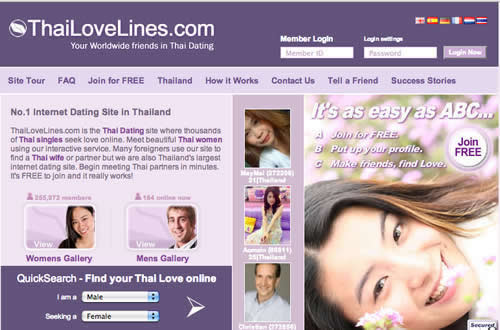 MizzThai is a fairly new Thai dating site with an interesting unique concept.
It's centred around travel and fun and aimed at the solo male traveler who wants a companion for adventure, not necessarily someone serious who wants love or long-term partnership. Though it could turn into that.
Sounds great, right? An attractive girl on your arm for two weeks as you travel the Land of Smiles!
I think this concept will suit those who want to focus on their travels, with romance and companionship of secondary importance.
You should, however, consider that a woman who can just travel at the drop of a hat is either A) well-off and doesn't need to work, B) A business owner who can work from anywhere, or C) a "dating professional", so to speak.
I personally don't think this is for those seeking a meaningful relationship, as it is likely to attract girls just out for a free trip, fine wine and frolics and fun, which is great if that's what you want.
Okay, so Smooci is not your traditional dating platform, but a few people in the comments have asked for this type of dating while on holiday, so I've added it to the list. It's certainly worth a mention – and I guess no date is ever really free, anyway, right?
It's essentially a "Thai dating" site for those looking for short-term companionship; think men on business flying in for a few nights or those on short stay holidays.
But it also serves a purpose for those who don't enjoy spending time in the bar scene, or just don't like the very public concept of bar-based negotiations.
Think of Smooci like Uber but for paid dating: You register an account, type in your preferences and how long you want to spend together, choose your date from the matches given, and then track her progress, with the precise location of your date and her estimated time of arrival displayed on the screen.
Before you book, you can read the reviews of others, and rate your experience afterwards.
I think this service is quite innovative, and may be a positive for both parties going forward. It provides an element of protection/safety for both parties, as there's a digital footprint of the transaction and the meet up.
It also enables women working in this side of dating to have more autonomy over their work. They can work when they choose to and aren't beholden to the demands of the bar. I wouldn't recommend it for meeting the love of your life, though!
Smooci is free to sign up and use, but for as little as $9.99 you can go premium and get a bunch of much-needed features such as photo verification (make sure your date looks like her photo), GPS tracking, 24-hour booking (book a date within 2 hours), read user comments (see what others are saying), and more.
I wish you all the best with your search for a great Thai lady, and believe me there are loads out there.
Remember: people seldom spend time writing about how great their relationship is, which means you tend only to read about the bad experiences online.
Thai women on the whole are like most women, amazing! Trust me, I know – I married one.
—————————
Here's some additional tips for you…
The 3 Rules of Thai Dating Websites [Essential]
There has been a rise in the popularity and number of Thai dating sites in the last two years, the majority centered, unsurprisingly, on western men meeting Thai women.
Whether this is because Thai women are increasing in popularity or whether they are becoming increasingly web savvy isn't clear. But one thing is for sure, you should be as cautious about the online dating process in Thailand as you would in your own country.
You should make sure you're well informed before you start out, not just about the types of women you're likely to come across, but also the size of membership, cost and service of each site – which is why I laid all the stats and info out for you above in my list.
While you should be cautious, don't be fearful.
I've met many western guys who met their partner on Thai dating sites, and highly recommend this avenue over nightclubs, bars and introductions, which often turn into a nightmare. I also know many well-educated, professional Thai women active on these sites.
It's not just those looking for a relationship that can benefit from Thai dating sites, either. Many men traveling on business or coming for a holiday in the region find a date for their visit through this channel.
These rules apply to dating sites across the board. It's common sense, but worth reminding yourself all the same, before you get carried away with the thousands of potential partners you're about to be viewing.
1. Engage with the person you're interested in over a good month or two before arranging a meet. This gives you time to be confident that they are who they say they are.
2. Never send money to someone you have never met, no matter the excuse they give. There are scammers in every country, and Thailand is no exception.
3. Don't give out your home phone number or address until you have met the person, or at least Skyped and had a face-to-face conversation.
How to Avoid Bargirls on Thai Dating Sites
Like any other single woman, many bar girls – both those having sex for money and those solely working in the entertainment industry as a dancer or hostess – are looking for a partner. So yes, it is likely you'll come across such women on Thai dating sites.
You may be able to identify such women by their working hours or the fact that they say they don't work, yet still had the cash to sign up for a premium membership. Be aware that many of these girls are serial daters, and probably have a man in every port, so to speak.
Ladies of the night usually have a reasonable command of English (or "barglish" as it's called) yet no education past the age of 15 to justify it. Such women are also likely to have children from previous relationships.
For some men this isn't a problem, and depending on what you're looking for, you may not mind what a person does for a living, or whether they have dependents or other guys in their life.
However, I think it's a good idea to understand the typical profile of the type of women you are and aren't looking for before you start.
The last thing you want is to end up dating a woman who is solely seeking financial support for her family, and isn't genuinely interested in what you're looking for.
Start off on the right foot and seek a woman that shares your interests, values and intentions.
Can I Find Women Just Looking for Sex?
You can, yes. If you don't mind paying and want a quick service while in Thailand then Smooci is the best option. If you want a "companion" to travel with, try MizzThai, and if you've got some time to put into flirting online try Thaifriendly.
That said, if you do see a profile advertising a "bit of fun" on TF, you will at least have to entertain the lady over dinner and possibly pay for the privilege.
It's also worth mentioning that on ThaiFriendly and ThaiLoveLines I have come across university students (TF) and other women looking for financial sponsors to "take care" (TLL) in exchange for some loving.
On the proper dating sites like ThaiCupid you'll not find this type of woman, and most profiles are looking for a proper relationship. A lot of guys meet a future wife on there.
Whatever type of romance you're seeking, take care and have fun.
Peter ~ Thethailandlife.com