If you are thinking of studying a martial art while you stay or live in Bangkok, then you might want to consider learning Wing Chun. Most people come to Thailand an learn Muay Thai, but if you want to buck the cliche and learn something a little more elegant and practical, then this close fighting system, made famous by Bruce Lee, is accessible for people of all fitness levels and age.
What is Wing Chun?
Wing Chun is a Chinese martial art that utilises a solid stance, fluidity, energy and body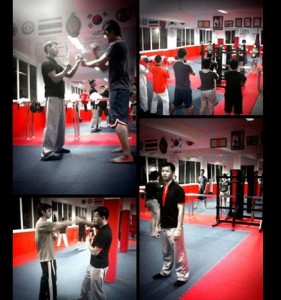 structure to deflect or redirect external force, and therefore enables a Wing Chun practitioner to beat a stronger opponent.  They say a Wing Chun stance is "like a piece of bamboo, firm but flexible, rooted but yielding".
Wing Chun isn't about competing or being agressive – although in time it becomes a great self-protection tool – it is about self-development and conditioning the mind, body and soul. Wing Chun utilises forms to learn graceful, but potentially lethal movements of the arms and legs, and is also a great way to unwind, channel energy and de-stress from work.
Wing Chun In Bangkok
There are very few places to do Wing Chun in Thailand let alone Bangkok. When i first arrived I searched for some time with little luck. Eventually my extensive search led me to the class I now attend just before Sukhumvit 105. It is held in a sports hall within the Thai Navy Sports Centre grounds. The grounds are pretty, and once inside you almost feel like you have left Bangkok. The complex comprises a golf course and driving range, a gym, a shop and a restaurant.
The Location
To get there you currently need to go to On Nut BTS station, then take a taxi straight down Suhumvit road, which costs about 50 baht. Next month though, fingers crossed, the new BTS station near the club will be open, literally dropping you a stone's throw away from the Navy Centre.
The Wing Chun Teacher
The teacher is Sifu Panor. He is a very friendly, down to earth guy who speaks English, German and Thai. He has studied Wing Chun for over 10 years and also knows various other martial art techniques. Unlike many other Wing Chun teachers he has competition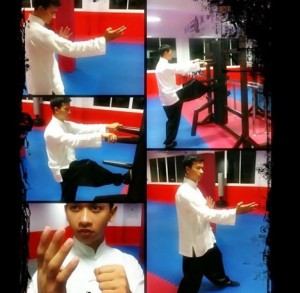 experience,having fought in mixed martial art bouts. He is also proficient in Muay Thai. His free flowing teaching style allows you to ask all your "what if's", request demonstrations at any time, and learn specific things that you feel are important for you. For example, presently we have two ladies in the class who often request to learn practical self-defence techniques to use in the event of being attacked in the street.
The Cost of Wing Chun In Bangkok
I have been learning with Sifu Panor for over a year now, and although I had prior Wing Chun experience in the UK, I have learnt so much in a relatively short space of time. I believe this is due to a more personalised teaching approach and a smaller class.
If you are thinking of taking up a hobby then why not try Wing Chun. Sifu Panor offers a free introductory lesson to all newcomers, and the monthly price for three sessions a week (Tuesday, Thursday, Saturday) is a mere 1,500 baht a month, all of which, by the way, regularly run over the allotted time.
In true Thai style the class has a warm family vibe and everyone is welcome. We are all there to help each, have fun, get fit, and of course, learn Wing Chun!
If you need any further information feel free to contact me.
Address:
Ratchanawi Bangna Sport Development Center Sukhumvit 105, Lasalle Soi 17. (Near BITEC).
Visit the Bangkok Wing Chun Facebook page