199 Everyday Thai Phrases
It's so frustrating! You want to jump straight in and start speaking Thai, but you can barely say "hello", let alone order a meal, ask for directions or pay someone a compliment.
You want to tell the taxi where to go, you want to say more than "how are you?" to the girl in the cafe, you don't want heaps of MSG in your food! But those pesky tones and Thai letters are stopping you understanding a word.
NOT ANYMORE!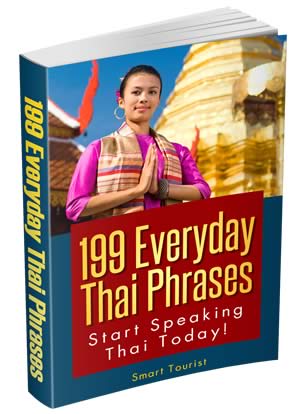 199 Everyday Thai Phrases uses "phonetic hacking" to translate all the essential everyday things you want to say in Thai into English. The book is designed in such a way that Thais will understand what you're saying, and better still, they'll be inclined to help you learn even more Thai and perfect your pronunciation.
---
The 60-Minute Thai Alphabet
The Thai alphabet can be a nightmare to get your head around, especially having been brought up with the Western alphabet that contains just 26 letters. The Thai Alphabet has 44 consonants and 32 vowels to learn, yes that makes 76 symbols  to master! But don't worry…
The 60-Minute Thai Alphabet helps you learn the Thai alphabet fast by using a scientifically proven memorization technique that enables you to find connections between new information and things you already know.
Fast-track your learning with this popular book that has sold in excess of 25,000 copies, and start reading and writing Thai today!
---
Eating Thai Food Guide
Food is at the very heart of Thai culture and everyday life. So much so that many people's, names and colloquialisms are derived from famous foods and dishes. Thai cuisine draws on a diversity of influence. From the Northeast to the deep South and wider ASEAN region, Thai food is blessed with a tantalising blend of flavours that take the eater on a tongue-teasing, exciting oral journey.
Mark Wiens has done a fantastic job in breaking down the barriers that prevent foreigners from properly exploring the exciting landscape of Thai cuisine. The book is superbly researched, with easy to follow explanations of where to eat, what to eat, and how to combine dishes for the ultimate Thai eating experience.
Coupled with beautiful photography, this definitive guide really captures the colourful world of Thai cooking, and the exquisite blend of flavours that make it arguably the most mouth-watering cuisine in the world.
I highly recommend this to anyone interested in going beyond the comfort zone of Pad Thai and Thai Green Curry!