Thailand Books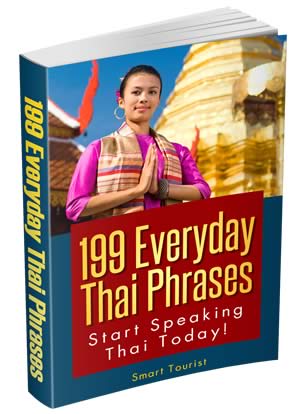 199 Everyday Thai Phrases:
It's so frustrating. You want to jump straight in and start speaking Thai, but it's so difficult! You want to tell the taxi where to go, you want to say more than hello to the girl in the cafe, you don't want heaps of MSG in your food! But those pesky tones and the Thai alphabet are holding you back. NOT ANYMORE!
199 Everyday Thai phrases uses phonetic hacking to translate all the essential everyday things you need to say in Thailand into English. The book is designed in such a way that Thais will understand what you're saying, and better still, they'll be inclined to help you learn even more Thai and perfect your pronunciation.
60-Minute Thai Alphabet:
The Thai alphabet can be a nightmare to get your head around, especially having been brought up with the Western alphabet that contains just 26 letters. The Thai Alphabet has 44 consonants and 32 vowels to learn, yes that makes 76 symbols  to master! But don't worry…
The 60-Minute Thai Alphabet helps you learn the Thai alphabet fast by using a scientifically proven memorization technique that enables you to find connections between new information and things you already know.
Fast-track your learning with this popular book that has sold in excess of 25,000 copies, and start reading and writing Thai today!

Amazing Thailand!
Thailand is the home of beautiful beaches, sticky rice, papaya salad, the ever-intriguing ladyboys and the world's friendliest people…But visitor or expat, how much do you know about the land of smiles?
From the essential cultural stuff to the silly, the sad and the random, these 101 'must know' FACTS will teach you more about Thailand in one day than most people learn in a lifetime.
Impress your friends, enhance your general knowledge and take a crash course in Amazing Thailand! devices.