My previous Thai talk post on dating and Thai love phrases proved pretty popular, so I thought I would create a useful set of "Thai for beginners" phrases for tourists and those just starting to learn.
At the time of writing I myself am still a relative beginner, but have recently been attending Thai school and am enjoying learning new words.  I hope you find this useful list useful, and If there is a particular phrase or question you would like to know how to say, please feel free to hit me up in the comments section and I will ask my Thai teacher for the correct phonetic translation: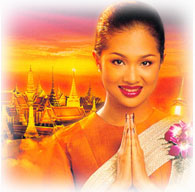 Thai Talk – Essential Thai For Beginners:
Hello – sawadee khrup (male) sawasdee ka (female)
Thank you – khop khun (khrup/ka)
How are you? – Sai bai dee mai (khrup/ka)?
Fine thank you – Sai bai dee (khrup/ka)
Never mind/it's okay/no problem – Mai ben rai (khrup/ka)
I cannot speak Thai - Puut Thai mai dai (khrup/ka)
Please speak slowly – Phuut cha cha (khrup/ka)
I don't understand – Mai kao jai (khrup/ka)
Where is the rest room? – Hong nam yuu dong nai (khrup/ka)
How much does this cost? – Anee tao rai (khrup/ka)?
What is this – Anee arai (khrup/ka)
Very expensive – Paeng mak (khrup/ka)
The bill please – Gep dang (khrup/ka
Goodbye – La gawn (khrup/ka)
Good luck - Khor hai khun chock dee (khrup/ka)
Sorry/excuse me – Khor thoad (krub/ka)
I need a doctor – Phom dong gaan hai mor maa raaksa (khrub/ka)
* Please note that these phrases don't have the tone marks needed for a completely accurate pronunciation  However, if you can practice while out and about, Thai people will happily help you with the correct tones. Practice makes perfect, and the only way to get better is to speak with natives.
If you want to learn Thai at home or enhance your school lessons, I highly recommend the Thaipod101 online course. I am currently combining this online course with my school learning and it's working well for me. I find it gives me a lift between classes and doesn't allow me to simply rely on the two lessons a week; it also gives me some diversity away from the generic learning structure of the school syllabus. The video files provided for download are iPod/iPad and Android compatible, which is cool because can learn on the go while in cafes and on the train. There give you a a 7-day free trial that's well worth taking advantage of.
Anyway, it's time to move onto lesson 2 to further expand your vocabulary!