This year I will be spending Songkran 2011 (New Year) in the North East of Thailand and I can't wait to see how it compares with the islands and the cities of Bangkok and Chiang Mai. I love Songkran and seeing as it's just around the corner, thought I would share an article I wrote for a magazine a couple of years ago explaining what it is and how I felt about the world's biggest water fight…
Songkran – The World's Biggest Water Fight
One thing everybody enjoyed as a child was a good old water fight when the summer came around. Along with food fights and thumb wars, chucking a water bomb in a friends face never got boring. Unfortunately, once you had accidentally splashed an adult the fun would be brought to a quick halt and you were ordered inside to get dry. These days it seems kids are too busy tampering with their mobile phones to enjoy such social activities, but just recently I was given a three-day licence to throw any amount of water on any person at any time, no matter the circumstance. The Thai New Year, Songkran, is traditionally a time for people to return home to their parents and pay respects to their elders by way of small gifts. It is a time for people to reflect on all that their parents and elders have done for them in the past, and most importantly for Thais, an opportunity to have a darn good party.
Like Christmas and Easter in the UK, the real meaning and traditions behind Songkran have wilted slightly. One aspect that has increased in popularity is the indiscriminate throwing of water. This activity has its roots in the pouring of purified water on the hands as a sign of respect. Due to the increasingly hot summers in Thailand the subtle pouring of water has evolved into mass water fights that help cool down the nation over the holiday period.
I was lucky enough to be in Bangkok for the Songkran Super Soaker wars and boy did I have the time of my life. Armed with a garden hose and industrial bins full of water, seven of us stood outside my apartment block by the roadside and drenched every moped that drove by. I think my favourite soaking of the day was the lady who looked like she had just stepped out of a salon, her hair was immaculately brushed and her make up flawless, well at least it was until I poured a bucket of water over her head. Unfortunately I was informed by my fellow Thai water thrower that she had clearly stated; "Ok, wet me, but please not my hair", I really do need to brush up on my Thai!  Apparently if someone has a reasonable excuse such as ill health, old-age or new born, you can make an exception and let them pass dry.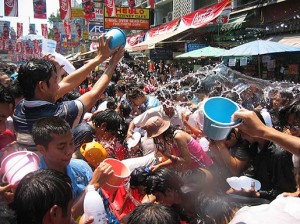 After 4 hours of wetting each other and every passer by, I started to feel a little chilly, the sun was going down and for the first time ever in Thailand I really needed a hot shower. Later that evening I ventured out with a friend for a drink downtown, the streets were packed with half naked Super Soaker warriors and 4×4's crammed with water throwing bandits. Needless to say we struggled to get in and out without having the traditional baby powder wiped on our faces and a good drenching. It was a sure payback for the poor Pizza Hut delivery boy and pancake maker man we had soaked earlier in the day.
There is no other word for Songkran except fun, everybody accepts their soaking amicably and joins in the festivities. Modern day Songkran may be frowned upon by traditionalists for steering away from its origins and traditions, but it remains a festival that unites the country with an incredible sense of togetherness and pride.
The festival takes place every year from April 13th – 15th. When not dousing each other with water, Thai people go to temples for prayer and merit make by giving food and aid to monks. Buddha images are cleaned with water and Thai perfume to encourage good luck and prosperity for the New Year. In some cities Buddha statues are paraded through the streets so that people can wash them as they pass by. People also carry sand to their local temple in order to recompense the dirt that they carry away on their feet during the rest of the year. The sand is then piled up and decorated with colourful flags. New Year's resolutions are also made in the same way we do here in the UK, Thai people also tend to give their house a good cleaning as we do at the beginning of spring.
Unfortunately, the festivities of Songkran are marred every year by the large amount of road traffic accidents. In 2009 there were 373 people killed and over 4000 reported accidents. The majority of accidents are caused by people driving under the influence of alcohol, and this marks the tragic consequence of such extended enjoyment and the fact that so many Thais live and work so far away from their families. During the Songkran period Bangkok seems comparatively deserted as thousands leave the capital for their hometowns. Unfortunately that means traffic increases in rural areas and with lapse drink driving laws people pay the ultimate price.
Songkran is a fantastic time to be in Thailand and Thais love nothing more than seeing foreigners getting involved. So, if you want free reign to throw water at people and are the sort of person that would enjoy a water fight involving literally hundreds of people, then book your ticket for April and I will see you here.