This week I received a disturbing email from an old friend. A dog lover like me, she visited Thailand a few years back and spent time at the Samui Dog and Cat Rescue centre on Koh Samui. Since leaving Thailand she has continued to support the charity and receives regular news updates. Having lived on the island for about 8-months in 2008/2009, I also visited the centre on a few occasions. Seeing first hand what the owner, Brigette, her partner, and the Thai team do is simply incredible. Perhaps their biggest achievement to date has been completely eradicating rabies from the island by vaccinating all stray dogs and those that come into the centre.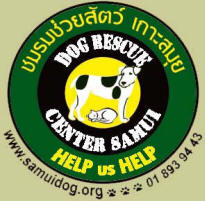 It was then with great sadness to hear of a recent tragedy at the centre. 43 dogs lost their lives in a very short space of time. The centre were helpless as many dogs became increasingly sick, even after medication. After countless fruitless efforts to establish a cause, the center finally narrowed it down to the dry food mix they had purchased from their usual supplier. It has since transpired that the supplier had recently changed the run of production, and as such the food had become toxic.
Rather than immediately inform all those he supplies, the rogue remained quiet and failed to inform anyone, knowing full well that dogs would die. Tests have since shown the food was contaminated with Alpha Toxin, and after spending 106,000 Baht (2,000) on the poisonous food order, the centre is desperately in need of support while they set about trying to obtain some compensation – no easy task in Thailand.
Other dogs have been affected, including 5 dogs at Soi Dogs in Phuket, and 10 Huskies owned by a breeder in Bangkok.
There is no excuse for such negligence, and I hope this horrible human feels the full force of the law. Many of the lost dogs had loving overseas sponsors and some had been at the centre for more than six years. All those involved with the centre have been deeply affected, both by the loss of their beloved animals and the waste of important funds that keep the centre running.
Unfortunately Thailand isn't quite the "Buddhist animal loving" country we like to think it is. It is in fact like any other country. Some people would put a dog's life before their own, and others couldn't care less as long as they are making money. The difference being that trading laws in what we might class as "first world" countries wouldn't tolerate such evil behaviour from unscrupulous businessmen.
It is somewhat pointless me writing anymore on this story because I have the PDF with full details for you to read. Please take time to read Brigitte's account, and I ask you to dig deep and donate any amount you can to this extremely worthy cause.
Dogs bring so much joy to our world. They lead the blind, become the ears of the deaf, give company to the lonely and assist in saving lives in war zones. But above all, as owners, no matter how long we are gone, how angry or sad we are, they remain loyal until the end.
I really hope the Samui Dog and Cat Rescue Centre can fight back their tears and continue helping the dogs of Koh Samui. Whether you live in Thailand, on Samui Island or overseas, please take time to read the attached document and spare a thought for each of the pictured dogs that died in this tragedy.
DOWNLOAD THE STORY AND PICTURES USING THE LINK BELOW:
Poison_attack_February_2011 (1)
To Contact The Centre Please Use The Details Below:
Dog and Cat Rescue Center Samui
Brigitte Gomm: 112/35 Moo 6 Bophut/Chaweng, Samui, 84320 Suratthani, Thailand.
Phone: 00 66 (0)77 413 490 Mobile: 00 66 (0)18 893 94 43
E-Mail: [email protected] Website: www.samuidog.org
Skype: DRCS Facebook: Brigitte Gomm