I took the day off last week to go and watch my girlfriend learn to drive.
Now, had we been in the UK, this would've involved me waiting in a centre or agency of sorts for her to return after enduring an hour of beeping white van men. But this was learning to drive Thai style…something I was yet to experience.
For starters, I was pretty shocked that she'd only paid 3,600 Baht for 20 lessons (70 quid) – that would get you two lessons back home, and even more shocked when we pulled up to what resembled more of an assault course than a driving centre.
Okay, I'd seen these places before….but it still takes some getting used to, thinking that people here don't learn to drive on roads. There is no getting stuck behind a first time learner driver in Bangkok, no, instead learners are confined to wasteland learning areas to bump cones and tyres and try to reverse park into makeshift spots.
I made sure I was fully kitted out with Buddha amulets before leaving the house, and I did warn the staff that they should probably close off near by roads. I also told my GF that pretty pink bowed sandle type shoes weren't appropriate for learning to drive, however, in reply I got the "this is Thailand not England".
Four newbies were bundled into a Toyota Vios and shown the ropes by a fairly uninterested instructor, and after what seemed like only 30 minutes, each lady was given a ride of her own to start driving.
My girlfriend was given the biggest car of all, at which point I told everyone to stand back – she is known for slight acts of clumsiness. Jokes aside, she did brilliantly. I was super-impressed. She kept a steady pace with no jerking (ooh err missus!) and didn't run over any of the resident dogs.
She went for another lesson two days later and told me that she was left in the car alone for an hour to "figure it out for herself", and apparently got quite cross with the instructor for not doing his job properly.
It would seem that there is no "cotton wool" here when it comes to learning to drive. "This is how you do it, now get in and drive!" Seems to be the method. It's a touch harsh, but considering by lesson 2 she was already whizzing round on her own, perhaps this approach works well.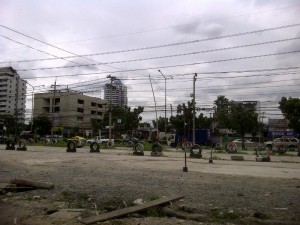 One thing I can't figure out, and the centre hasn't yet told her, is whether she will be doing any road driving at all, or whether the test is conducted on waste land or real roads. Most of the advanced students at the centre seem to be practicing reverse parking alone, and not on a street somewhere, so I assume it is all done off-road, which will make finally hitting those Bangkok streets pretty nerve wracking.