Before we get to comparing the policies of the top companies, and before you choose a plan, let's be clear on what international health insurance in Thailand really means.
First up, it isn't travel insurance. If you need that, go here.
This is comprehensive medical cover for expats, and for those who work from country to country.
It differs in that the policies provide better cover, not the measly amounts offered by local insurance, which might be okay for local cover, but not for the top hospitals with the best medical care, and certainly not for when visiting other countries where medical costs are higher, or when visiting your home country.
International medical insurance in Thailand provides broad, continuous cover, and flexibility on aspects such as returning home for considerable periods of time, and specific health conditions.
Now that's cleared up, it's time to get to grips with the attributes that make for a good health insurance plan in Thailand – for you personally.
By this, I mean that not everyone has the same requirements. You don't want to pay for inclusions you don't need, but similarly you don't want to shortchange yourself and end up not covered should the worst happen.
So let's start with the top ten key considerations when choosing a policy.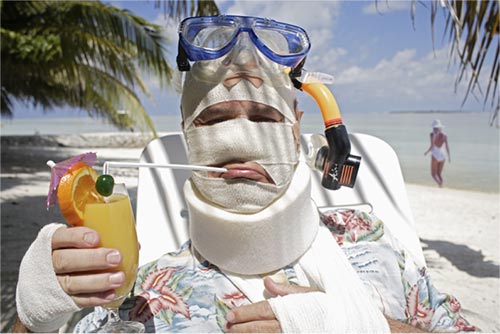 10 'Must Consider' Points When Choosing International Health Insurance
1. Company reputation
This is arguably the most important consideration in terms of the deal. You don't want to get ripped off, period. In this case, it's probably best you go with a bigger company with a proven track record of coverage, rather than one with dirt-cheap rates and a handful of dubious personal testimonies.
2. Customer service
You need your questions answered without any – excuse me – bullshit. You don't want to get dodged on critical issues. The company needs to be available on a regular basis, preferably 7 days a week. You want staff to be professional and understanding of your needs.
You need multilingual (English-speaking) advisers offering 24/7 support.
You want action taken. You want staff to know what your situation may be, and allowances for a family member or close friend to phone on your behalf in emergencies. Some companies are better than others at customer service – get your needs met.
3. Your lifestyle/habits
Hey, we all have vices. Life is indeed more pleasurable with them. But try telling the insurance guys you smoke two packs and drink a bottle of whiskey a day … hmmmm.
When they find out, they'll drive up your premium costs for access, and you will be asked if you use tobacco products. 
In the game of insurance, your personal habits, which could cause potential health hazards, propose a risk. A passion for tobacco, alcohol or recreational drugs could drive up your premium. Consider giving up before you get a quote 🙂
4. Pre-existing medical conditions
Bad ticker? Had an accident you've had to claim insurance from previously? Maybe there's an outside risk of spontaneous combustion that's run in the family since your great-great-great grandfather had a curse placed on him in Victorian times!
Of course, age always drives up premiums.

 The point is, how does the company know you're not going to lay frequent expensive claims that'll run them into the ground?
Ongoing conditions drive up your premiums, and your buddies at the insurance offices won't willingly cough up if you're a liability. Consider pre-existing conditions when choosing a policy, and make comparisons on this basis if you think you could be a liability.
5. How claims will be handled
You need to cover your bill at the hospital immediately. You've just messed up your ankle on a bad paver in Bangkok (a common occurrence for the unwary). You're on the phone trying to extract your claim.  So, how's that working for you?
We have all heard horror stories of insurance companies not paying claims in Thailand.  SO a big part of the deal is being able to get your help when you need it.  That's why it's called insurance.
Get a company that handles claims in an effortless manner, no matter where you are. That means being able to call at 3am from Nakhon Nowhere and get the thumbs up to have that leg seen to. Again, comparisons are important here.
6. Hospital inclusion: Inpatient/outpatient care
There's are a number of scenarios that can play out once you've damaged yourself overseas. You might like to consider what the most likely ones are.
Are you the kind of person who often has to stay in a hospital (not saying you are a hypochondria, but…), or are you a less intensive Mr (or Ms) Bump type who just needs a bandage and off you toddle?
It is important to minimize your exposure if you have the unfortunate event of landing in hospital in a foreign country. While we never plan on an accident, it is always better to err on the side of caution in terms of hospital coverage. You do not want to fall prey to a hefty hospital bill.
The same rule applies for outpatient care if we need to see a local doctor in a foreign country. You cannot plan when you are going to need a doctor, so be sure you have sufficient coverage. Most times, additional coverage is only a few dollars more, which is money well spent.
7. Home country coverage – do they cover trips back home, and for how long?
Always investigate whether or not you'll need home country coverage. You might need to leave Thailand for a few months, or be sent home unexpectedly from work; your visa might expire, or you might need support from your immediate family and friends and need to fly out quickly. 
On a bleaker note, check to see if the insurance company will cover the cost of airfare if the worst happens. You wouldn't want to saddle your already bereaved family with the bill of having to have your body flown home.
8. Dental care and vision
There's so many people who travel specifically to other countries because they assume that their dental care is cheaper. It's true. Well, mostly true…
Some folks are more canny in the assistance they receive than others are. Let's face it, you're still reading this because you want to be clued in.
Dental care is often cheap in Thailand, but eye care isn't, and most basic insurance policies don't cover either of these matters.
There are niches of health insurance that cater for specific needs, who have specific contacts with optometrists and dentists in order to cover your costs. Check your policy carefully to see if these two potentially expensive things are covered.
9. Evacuation/Repatriation
In politically hostile environments, there could come a time when it gets too dangerous to remain, especially if you have kids. No one likes considering the following, but it has to be done when you're considering the in's and out's of expat insurance.
Similarly, severe weather/natural disaster could prompt a quick exit too. Is this covered? Make sure you check. This tends to come under travel insurance, but some policies offer bolt ons for travel, or upsells as they are called.
As mentioned previously, if you get sick and you need out from your country of residence, you need to know you will get the assistance you need. Moreover, if you die abroad and you want to be buried or cremated back home, you'll need cover for that.
10. Maternity plans
A lot of things can happen in regards to maternity: Regular visits to the doctor, specific advise from nutritionists, staying at the hospital, being covered for any wages you may lose from not being able to work, and of course the big moment of birth.
Everyone likes to be covered in these cases, and perhaps maternity is your particular reason for receiving health insurance and care.  Maternity plans are typically NOT covered in basic plans but are covered in higher premium plans. 
Some companies cover for maternity issues better than others. Some may charge an extra premium.  Some may only deal in maternity. I'd tell you to do your research, but I've already done it for you in the table below :).
Comparing the 6 Top International Insurance Companies
The table below provides a snapshot of the cover available from the top 6 international medical insurers.
Please bear in mind that the type of cover, level of cover and excess is dependent on the plan and the option.
| | | | | | | |
| --- | --- | --- | --- | --- | --- | --- |
| | TheThailandLife.com Recommended | | | | | |
| Compare Option | IMG | William-Russell | Cigna | Bupa Global | AXA PPP Intl | Pacific Cross Health |
| Plan Options | Global Select/Fusion/Hopper, Patriot America (Silver, Gold, Gold Plus, Platinum). | Essential Care, Essential Care Plus, Bronze, Silver, Gold and Elite Plan. | Silver, Gold and Platinum with optional modules. | Core, Core M1, Core M1 and M2,Core M1, M2 and M3. | Standard, Comprehensive, Prestige and Prestige Plus. | First Class Plus, First Class Business Class and Visa Economy. |
| Policy Maximum (coverage) | $5,000,000 to $8,000,00 lifetime per individual. | Bronze: $1,500,000 Silver: $2,500,000 Gold: $4,500,000. | $1,000,000 to $3,000,000 per year. | Annual maximum: GBP 1,000,000. | $1,200,000 to $4,800,000. | $1,000 to $7,500,000. |
| Eligibility | U.S. and non U.S. citizens up to age 74. | All nationalities, all ages, as long as you sign up prior to age 70. | All nationalities, all ages. | No minimum entry age. Max age is 79. | All nationalities, ages 18-70. | Minimum age of 6 weeks to a maximum of 75 years. Children under 7 must be insured by an adult who is also insured under the same policy. |
| Coverage Area | Worldwide excluding China, Hong Kong, Japan, Macau, Singapore & Taiwan. | Worldwide, but you can exclude U.S. to save money. | Worldwide or worldwide excluding the U.S. | Worldwide | Worldwide, or you can exclude the U.S. | Treatment area limit option is not available to residents in Singapore. |
| Home Country Coverage | 12 months. Up to 6 months for U.S. citizens. | Flexible. | Up to 3 months of home country coverage. | Some | Can choose. | Unclear. |
| Doctor Visits | Included | Bronze only if post-hospital treatment. Silver and Gold both covered. | Included | 100% | Included but not in Standard Plan. | Included |
| Wellness Checkups | Covered on all plans except Bronze. Better plan equates to higher allowance. | Not in Bronze. Included in Silver and Gold. | Included (routine health checks, vaccinations, etc.) | Can include; depends on plan selected. | Included, but not in Standard Plan. | Excluded |
| Hospitalisation | Included: semi-private and private rooms. | Included in all plans; amount depends on plan. | Semi-private or private rooms, depending on plan. | 100% | Included | Hospital cash allowance $750.00 to $1,000; depends on plan chosen. |
| Intensive Care | Included | Included | Included | Paid in full | Included | Included |
| Prescriptions | Included | Included in Silver and Gold plans only. | Included | 100% | Included | Included |
| Dental | Full cover, with some excess depending on plan option. | Routine dental treatment (6 month continuous policy waiting period) in Gold only. In-patient emergency restorative dental treatment included. Out-patient emergency dental treatment. depends on plan. | Accidental included in all plans. Additional services have 3-24 month coverage waiting period. | Accident-related dental treatment; Dental treatment that is required in hospital after a serious accident is paid in full; can include dental and vision in add on modules | Included in Prestige Plus only.Comprehensive and Essential will pay for dental treatment due to accidental cause and TCM treatment. | Excluded (except as necessitated by accidental injuries to sound and natural teeth). |
| Vision | Check-ups and materials covered under most plans. | Not specified | Included at 100% for Platinum plan, limits on other plans. | Can include vision in add on modules | Included in Comprehensive, Prestige and Prestige Plus. | Not specified. |
| PreExisting | Included in Silver-Platinum. Platinum provides full cover, otherwise, approx $5,000 per period of coverage up to a $50,000 life-time maximum after 24 months continuous coverage. | Not specified | To be reviewed pending results of underwriting; certain special exclusions may be added to your plan. | May cover depending on circumstances. | There are options to cover pre-existing conditions. | Excluded |
| Maternity | Included in Platinum Plan, otherwise, an optional add-on is available. | Included in all plans except Essential Care; Coverage depends on plan. | 10 month cover wait period. Different coverage for Bronze, Gold and Silver. | Maternity may be available depending on plan; a 12 month cover waiting period applies. | Included in Prestige and Prestige Plus only. | Excluded |
| Mental Health | Covered under Gold, Plus & Platinum on Global Select/Fusion after 12 months continuous cover. | Covered under the Elite plan only, not the essential plan. 24-month continuous cover required. | 100% paid for Platinum, $10,000 Gold, $5,000 Silver. | Not covered under Core plan but is covered under Core Cover & M1, Core Cover M1 and M2; and Core Cover M1, M2 and M3. | Not included in Standard plan. | Excluded |
| Evacuation/Repatriation | Included. Coverage amount depends on plan. | Included all plans. | Paid in full. | 100% Must be pre-approved by Bupa Global. | Included all plans. | Unlimited |
| Deductible | $100 to $10,000, 50% waived within PPO network. | Depends on plan. | $0 -$10,000 depending on the plan. | Depends on plan. | Depends on plan. | Depends on plan |
| Renewable | Before age 65. After 65, up to age 74/79/or no restriction depending on plan. | Lifetime renewable as long as you join prior to age 70. | Lifetime renewable. | Lifetime renewable. | Automatic renewal. | Lifetime renewable |
| Cancellation | 15-day free look period with full refund. | 30-day money back guarantee. | 14-day money back guarantee. | One month's prior notice. | 100% of the trip cost. | 14-day free look with full refund |
| PPO Network | Your choice of doctors or use of PPO. | Your choice depending on plan. | Available or Cigna will help find a provider. | Your doctor of choice within network. | Your doctor of choice within network. | Available or Pacific Cross will help you find a provider |
| Administrator | IMG Global | Neuron LLC | Cigna | Bupa | IEMAS International Medical Assistance Service | Pacific Cross |
| Underwriting | Sirius International | Allianz Group and AGF underwrites its Global plans. | Cigna | Bupa | American Modern Home Insurance Company. | Pacific Cross |
| Rating | A (A.M. Best) | AA (Standard and Poor) | A (A.M. Best) | B++ (A.M. Best) | A (A.M. Best) | A+ – BBB Rating System |
| Review/Best For | High industry rating and renowned for good customer service/paying out. Flexible plans for all ages, singles and families. Available worldwide. Recommended option for expats seeking cover when in their home country too. US Coverage included . | Renowned for Good customer service and reliable payouts. Good option for expats (not over 70), though international health insurance plans do not provide cover in the USA. | Good international plan for individuals living abroad. Senior-friendly. Flexible plans help lower costs on non-essential cover items, but deductible can be high on lower plans & country coverage is weaker than top competitors. | Excellent on best plans, average on lower plans. Somewhat expensive with ad-ons and home country coverage. Trusted brand reputation. | Simplistic cover . Two plans available: IPMI International private medical insurance, or travel insurance. IPMI offers better coverage for medical. Doctor's visits and wellness checkups not included as standard. | Worldwide health insurance cover with lots of exclusions except on the most expensive plans. Largely targeted at those with residency in Thailand who travel. |
| More Info | | | | | | |
*This table is subject to copyright ©. No copying or reproduction of this table is allowed without written consent.