Following on from the Bangkok taxi scam I spoke about in an earlier post, I almost forgot to tell you about the Grand Palace scam….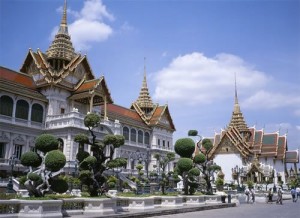 So there we were, fully stuffed from breakfast and just about over the fact that my newly arrived friend had been overcharged on a meter by around 750 Baht. "No worries", he said, "Onwards and upwards". We jumped in another taxi and headed over to a place I was convinced would lift his spirits.
We pulled up, jumped out and avoided the immediate onslaught of touts babbling the usual "Where you go" lyrics. In truth, I had forgotten which way the palace gate was, and ended up walking the long way around. The one thing about Bangkok that immediately lands tourists in trouble is not having a clue where they are going. You become an instant target for scams like the one I am about to reveal.
We were approached by a few guides along the way, all of whom spoke very good English and seemed like nice guys (ahem), don't be fooled I thought, this is tourist Thailand now. One guy approached us in a very cool manner and said, "The entrance is over there, but you can't get in now, it's not open until 3pm because the monks are praying. But you can go to…." He reeled off the name of some other historical landmark and something about getting a Tuk-Tuk.
I was very skeptical, yet a little curious…but we kept walking…
On the way to the palace we were approached by three more Thais telling us the palace was closed. The story had now evolved to "It's only for Thai people until 3pm, but you can go to….". Even a security "looking" guard outside the palace tried to stop us just yards from the door. It was of course bull, yet very believable bull for the unsuspecting tourists who were falling for it left, right and centre, and no doubt missing the palace visit altogether because it really does close at 3.30pm.
Had it not been for the variation between stories, it is very possible we may have fallen for the scam, particularly because so many people were saying the same thing.
When we finally got in and hired our long trousers, I spoke to one of the staff and explained the con that was going on outside. Typically, she laughed and said, "Yes, it's not true". "I know that, I am in here now, but you really should do something about it."
I then cast my mind back to a time when two friends had visited last year. I remember them saying to me, "Oh, we missed the palace because it closed until 3pm today, but we saw some other stuff…." Wow, the con has been going on that long….
Take care out there folks….