Every expat has thought about it, and many have done it – some regrettably so and others beaming at the mouth over the joy of owning some bricks and mortar in the Land of Smiles. After all, it's one of the few things that can make one feel at home in a country with fairly strict laws on land ownership, employment and business creation for foreign nationals.
Foreign nationals are permitted to buy a condo (freehold) without restriction, but only in a building where more than 51% of the total number of units are Thai owned, otherwise foreign nationals are restricted to a leasehold condo.
While buying a condo might seem like the logical thing to do if you are sick of fattening your landlord's pocket each month with rent money, or if you're holidaying twice a year and splashing out on hotels, there's a bucket load of things you need to consider before signing on the dotted line for your slice of Thailand.
Now, before I get started, let me just make it clear who this post isn't for.
This post isn't for anyone who has so much cash that throwing down 5 MB+ for a condo is a mere drip in their champagne glass. If you don't give a monkey's bottom whether you see a return on your money, whether you're being blinded by marketing ploys or whether your condo was built by builders without any building qualifications, stop reading now – you're going to buy a condo regardless of my advice, and probably a speedboat, too.
This post is for those who have stacked a modest amount of money in the bank and are now looking to make a wise investment, or to simply put down some digs in their favourite part of Thailand, with the vision of having a future here – or at the very least a holiday home.
Now that we're clear, let's start!
1. How Big is the Rabbit Hutch?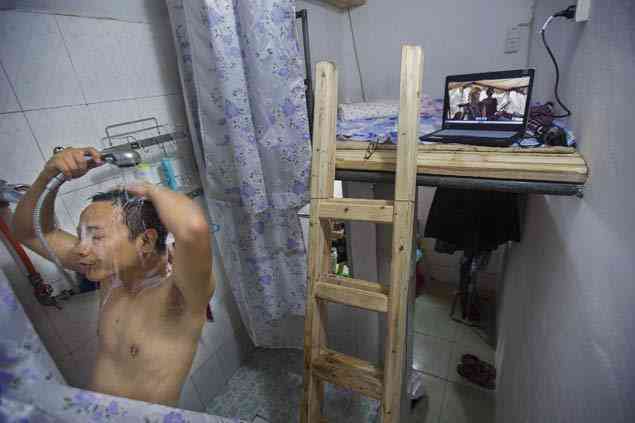 The future of condo living?
Picture source: nydailynews.com
It's no secret in the Thai property industry that when you build a condo block close to public transport links, the beach or local nightlife, the developer drastically reduces the size of the condos and inflates the price. People pay over the odds for convenience, and often end up making sacrifices that later down the line become very important.
Just a few weeks ago a friend and I went to see a condo in Ekkamai, Bangkok. The said condo was a 2-bedroom, approximately 60 sq. m., B35,000 a month. During the viewing, the landlord showing us around mentioned she had other condos, one of which was near On Nut station. It was a 41 sq. m two bedroom for B30,000 a month. We'd already turned our noses up at the size of the one we were viewing – but 41 square metres! How do you fit two bedrooms in that?
The lady went on to explain the market and how developers were consistently making condos near stations smaller to maximise profits and squeeze buyers. The scarcer the land to build on the higher the blocks will go and the smaller the apartments will become.
But here's the crazy thing. The condo we were viewing was only 6 or 7 minutes walk from the station. So, just by making the sacrifice of having to walk an extra few minutes to the station, for not even £100 more a month, we could have 21 sq. m. more and be in a more central area. If we were buyers, the difference could have been as much as 1.5 MB.
Wherever it is you want to buy, start your search from the most convenient or attractive part of the area; the station, the beach, the shopping mall, wherever, and gradually work your way backwards noting prices, until you get to a point where you say, "Hey, that's too far to walk", or, I can't be doing with that motorbike taxi ride every day".
Moreover, I know you're excited about living in Thailand or owning a holiday rental, but as we all know, Thailand has a way of blinding us to certain realities, and condos is one of those. Would you shed out £60,000 back home for a rabbit hutch, an unfurnished one at that?
Make sure you do the math. What often seems cheap in Thailand isn't all that cheap when you make a market comparison. Compare how much you are paying per sq.mt with what you'd pay back home.
Also consider the long-term ramifications:
Will you and your partner be getting under each other's feet all the time in such a small place?
It's big enough now but what about when the little one is a few years old?
If you're a singleton, is it big enough to rent a spare room or have people over to stay while their on holiday?
It looks spacious on the plans but how much stuff have you got and how much are you likely to accumulate while living here?
Won't you want bigger balcony to sit out on?
Do you really want to look at that main road every day?
Having a gym upstairs is great but will those 10kg dumbbells and two bikes really suffice?
2. Are You Buying a Condo Built by Mr O' Rilley?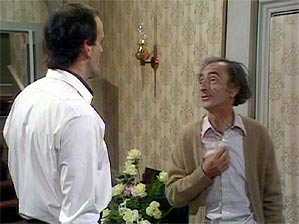 "I thought you said a wall Mr Fawlty?"
Picture source: TheVervoid.com
If you're a Fawlty Towers fan then you'll be familiar with the building work of the jolly Irish builder in the picture above, Mr O' Riley.
Humour aside, the build quality of condos in Thailand is appalling. Even those developer brands touting their work as "European standard" have a lot to answer for, particularly when you take a walk past the site and see the dubious building techniques being employed.
I remember a friend visiting from the UK sometime ago. A roofer and plasterer by trade, he was gobsmacked by what he observed on the building site opposite his hotel. At times he'd sit by the pool muttering, "What the?" "What is he doing?" "No, no, no, you can't do that"!
I don't blame the builders, though. In fact, I admire them.
The majority have no formal building education to speak of, the tools they are given to do the job are inadequate, and their lives are treated with such contempt that when it comes to safety standards and wages it's a wonder they manage to make it from one job to the next. But let's get to the ethics of the Thai construction industry later.
The fact is, the large majority of condos experience build problems in the first few years of operation. If you're lucky you'll escape with the simple stuff; the low quality materials used for the facia of the building will fade under the glare of the sun, the cheap tiles used to lay the flooring in the hallways and your apartment will crack on poorly laid floors, door will handles rust, walls will peel, etc. If you're unlucky there's leaking and subsidence to deal with.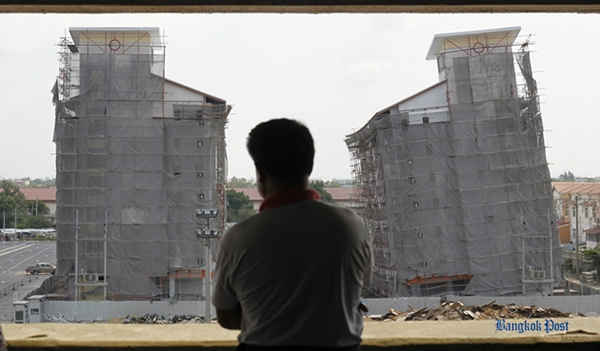 Zeer Rangsit Mall in Lam Luk Ka, Pathum Thani, subsides.
Picture source: BangkokPost.com
Don't get me wrong, nearly all condo buildings stand the test of time (except the one above, of course) in that they don't fall down. But generally they do require ongoing maintenance work that you wouldn't expect to do on a new property back in your home country. Of course the advantage of renting is that this cost is picked up by the owner or the block or the individual condo you are renting privately.
At the end of the day, the question is this: Have you researched the materials being used to build the condo you want to buy? If not, why not?
The fact is, if you're planning on paying 2.5MB for a 33 sq. m condo built with paper-thin walls, the cheapest floor tiles from HomePro and a single kitchen hob then you're getting shafted. Period.
3. Are You Happy Paying an Inflated Market Rate?
Every real-estate agent in Thailand will be all over this post telling me that the market is booming and 6% yields on rental properties are common.
And you know what, they're right. If, that is, you are Thai and bought off plan with a heads-up from the developer.
Here's a quote from the NomadCapitalist who knows a fair thing or two about property markets and their "legal scams" in Asia:
Here's one way Thais are playing the real estate market in Bangkok. Connected Thais will find "off-plan" condo projects in areas along the Skytrain line, such as Sukhumvit or Sathorn in Bangkok. Developers require ten percent of the condo price down at signing, which can be paid in installments over one to two years. That means a 500-square-foot, $200,000 condo can essentially be optioned for about $1,000 a month.

The plan in this scenario is to do an off-the-books sale of the purchase contrast to a longer-term investor (or sucker) once construction gets underway. Considering condo prices increase as much as few percentage points per quarter once it goes "on plan", Thai investors can as much as double their out-of-pocket investment before they flip the property. And because it was off the books, they avoid taxes or much scrutiny.

Such opportunities are not as open to westerners. You have to be connected, and Thailand is very proud of the fact that it was never colonized by any European power. That means no foreigner is going to penetrate their inner circle.

(Quote source: NomadCapitalist.com)
Ask yourself this simple question: why are their so many condos sitting empty in Thailand, particularly in Bangkok, yet, the owners would rather have them remain empty than drop the rental rate?
I will tell you:
Quite simply because – considering the points made above – these twilight investors are prepared to take a hit on a few for the sake of keeping the market artificially inflated, thus enabling their development investments in off-plan condo buildings that get flipped off the books at double-bubble (no pun intended) to flourish.
Call me an alarmist, but one day it will go pop, big time.
4. Is it Really a Good Investment?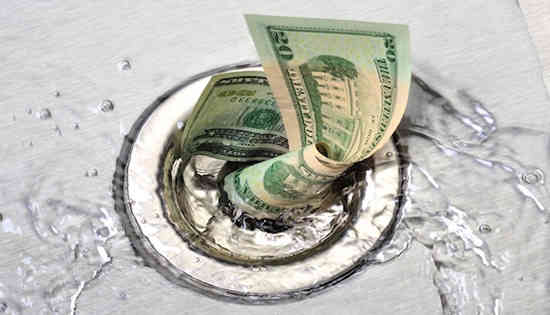 Are you washing your money down the drain?
Picture source: Mint.com
I nearly did it once. Five years ago, a friend and I slapped down a deposit on a condo in Koh Samui. It was to be a holiday home-cum-part yearly retreat. We justified our spontaneous purchase on the continual growth of the island's economy, and the fact that friends could rent it when they came out for a holiday. Sadly my friend got home, took off the rose-coloured glasses and figured that the cash would be safer in an ISA. He was right.
In some ways I wish we'd gone ahead, not least because I'd have a cool little escape in Samui and because market prices have doubled since then. However, the reality is that we probably wouldn't have been able to resell it anyway. In addition, the sheer abundance of new builds means the rental market is highly competitive and you need to offer up a cheap deal to make sure your gaff is full year-round.
Not to mention that I can book a decent hotel on a deal from Agoda or Hotel.com for B1.500 a night if I do want to go there for a holiday, hassle free.
Think about this scenario…
When you buy a property in the UK, for example, even if the market crashes post buy, if you hold on for 10 years, you'll still end up getting more than you paid for it, and in most cases make a profit. Moreover, you will be able to rent the property and make a good yield, regardless of the sales market conditions. The crash and climb of the 90s and of the mid naughty's has proven this to be true.
This is not the case for condos in Thailand. As mentioned above, the money is in knowing the man who knows the man, investing off plan before the project is announced and flipping off the books.
Buying a condo to rent out for profit is risky at best, unless of course you have a fixed 10-year agreement with a multinational company that wants to rent your place for staff, or a similar scenario. And here's why:
Condos for rent are two a penny in Thailand. The sheer abundance of choice makes it a renter's market. And while your condo might be a popular rent when it's brand new, when ten new blocks go up in the same square mile over the next few years, you'll have to drastically reduce your rental price to compete with the fancy new kids on the block. Once your aircon unit starts looking shabby and the pigeons have done their worst to the exterior of the property, your condo is way down on the list of units would-be renters favour.
This huge amount of choice, combined with inflated pricing, empty units and huge borrowing from the banks, is all part of the the predicted bubble. 
Of course there are exceptions. For example, buy a 38 MB penthouse on Soi Ruamrudee in Bangkok and you might get 250k+ a month for as long as the big banks and embassies are still in the area, even when the block is a little dated. But I don't have that sort of cash to shed out, do you?
The sums just don't add up. There's not enough money to made to take on the risk of an investment.
Let's say I buy a 3 MB 1-bedroom condo. Let's say it's fairly near a BTS station in Bangkok and I get 20k a month for it, and manage to rent it without it ever being empty. It would take me 12.5 years to make my money back, let alone a profit. And what are the chances of always having a tenant in there? And when that 12.5 years is up, what are the chances of being able to sell the condo for more than I paid for it? Zero.
And if I did get 3MB back on it, the value of that money will have depreciated over the previous decade, anyway.
Oh, and you have to pick up all the maintenance fees, too.
I'll rent, thanks.
5. Are You Being Blinded by Furnishings You Won't Get?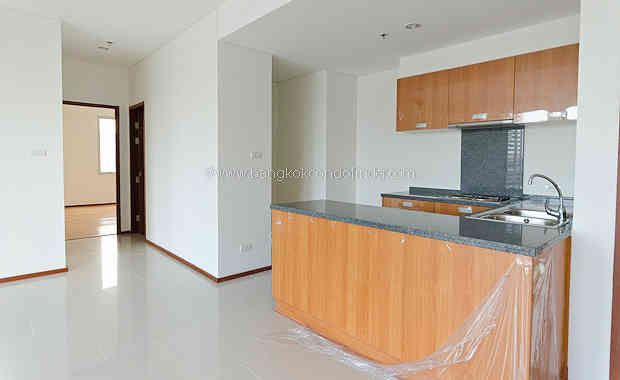 At least you get the plug sockets!
Picture source: BangkokCondoFinder.com
I'll never forget the time I accompanied a condo-buying friend to a showroom in Tong Lor, Bangkok. We were given free smoothies and chocolates just for looking around. It was five star treatment that made you feel like you'd won the lottery – and buying one of these condos was the missing piece of your life.
We were showed round a beautifully decorated condo. It was small but felt so cosy and looked really well-finished. Then it struck me to ask the sales lady, "So which of the condos come with this decor". "None, sir. This is just for show".
I'm not kidding, from the kitchen units down to the silver plug sockets, you didn't get a thing for your 6 MB. I finished my smoothie, drinking down the realisation that the entire setup was an oasis. They'd used a European kitchen and other high-end furnishings that would cost the price of the condo itself to buy and fit (properly) in Thailand. Without this stuff it was a mere hamster cage, without the pretty running wheel and drinking bowl.
So before you put that deposit down, make sure you fully understand what, if any, furniture and fittings you will be getting. And, at what price the top-end stuff in the show home will set you back post-purchase.
6. Is Your Deposit Refundable?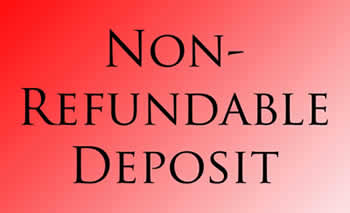 Question: Name a way to make money out of building a condo block other than selling the units?
Answer: Get truckloads of people to be so overwhelmed at the prospect of a free iPad and "special price today only" that they leave deposits with your commission-hungry sales staff.
Believe or not, condo developers in Thailand make millions of Baht every year from non-refundable deposits. First they lure you in with as much free water as you can drink, some snacks and smiles from some extremely attractive "pretties" (before the feminists hang me for using that word, it's not something I made up. This is a real term used in Thailand for women who stand at sales events looking pretty). Then, they show you the amazing decor you won't be getting, and lastly, the "today only" price that is yours for a small 20,000 Baht deposit if you just "sign here, sir".
Do yourself a favour and say you are not sure you want to buy, but, if you leave a deposit, it will be so you don't miss out on the special offer and freebies. That said, the deposit must be refundable within 14 days (or other negotiated period). Get this in writing. Or, if you can afford to throw away 20k, go ahead and enjoy another bottle of free water.
7. Is Your Dream Condo Complex Destined to be a Condotel?
A condo hotel, also known as a hotel-condo or a Contel, is a building, which is legally a condominium but which is operated as a hotel, offering short term rentals, and which maintains a Front Desk.
This little detail often comes as a post-build shock to those buying in the early stages of construction. It should be stipulated in the contract but is easily missed or conveniently left out.
So what's the problem?
Well, unless you fancy herds of tourists around the pool, coach parties gathering for trips in the lobby, sex tourists shaking the floorboards at all hours and the constant feeling of staying in a hotel, I'd enquire as to how many, if any, of the condos in your block are to be set aside as hotel rooms.
Maybe you aren't bothered about living in a condotel, but it's worth asking about, and you really should have been told if indeed units have been allocated for this purpose.
8. Are You Comfortable with Thai Construction Industry Ethics?
Poor safety standards threaten lives: Source: TeakDoor.com
Thus far this post has been all bout the reddies, the wonga, the Benjamins, the best bang for your buck and how to make sure you don't waste your hard-earned money on a condo that's not right for you. But what of the hard-earned money of the workers who build the condos? What about the unscrupulous developers who cut every possible corner, including worker safety and paying below the minimum wage to unregistered, immigrant workers. It's rife.
I've been observing the building of a massive condo development near my home for the last year, and seeing the workers shipped in each day from their campsite/worker digs in what look like pre WW2 trucks – stuffed over capacity and forced to endure the black smoke pouring out of the exhaust – is a painful sight.
To their credit, these men and women have built an amazing two building complex with very few power tools. Usually armed with little more than a hammer and chisel, they scale the structure dangerously, day and night, rain come shine, to erect condos they themselves will never be able to afford – not that they'd want to pay such an extortionate amount of money for a tiny space in the middle of the sky. Knowing what the materials cost and what they get paid, their probably having a good laugh at us!
But seriously…
When you employ the cheapest labour you can get, purely based on the fact that the workers don't have the qualifications to ask for more or the voice to be treated fairly, and you give them the bare minimum of tools, making it extremely difficult to do the job, it is, in my opinion, slave labour. As for worker safety, you only need to look at the flip flop-blessed shoes navigating the wooden scaffolding to make a judgement on how much the Thai construction industry values the lives of its workers.
I'm not trying to start some sort of "farang union" here, but I believe in fair. The workers should be given better training, better tools, more money and be better protected by health and safety standards. I don't know about you, but it makes me feel uncomfortable seeing people treated this way, and a free Samsung Galaxy, cooker fan and a couple of bottles of water won't make me forget these facts.
Got a condo-buying experience to share? I'd love to hear about it below in the comments section.